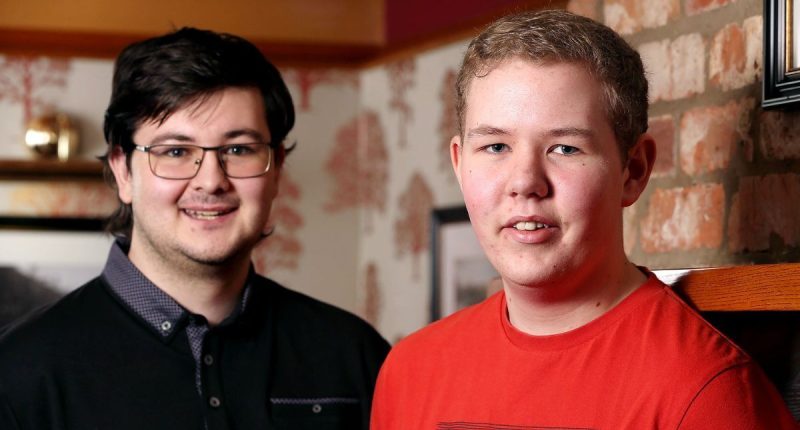 Nathan Andrew was diagnosed with acute lymphoblastic leukaemia aged nine and desperately needed a transplant after other treatments failed.
Luckily, Garin Stoneman had joined the donor register two years earlier after a team from charity Anthony Nolan visited his college.
Tests showed the pair were a strong match and Garin's stem cells were extracted from his bone marrow and given to Nathan in August 2017.
When the pair met for the first time recently they discovered they had surprisingly similar personalities and interests.
Both have a passion for computers and gaming. And as youngsters they visited the NASA centre in Florida just months apart, having their photos taken in the exact same spot.
Garin, 25, said: "It was a little strange initially. But it has been really lovely knowing who Nathan is.
"We're both into computer gaming, we've both built our own computers. I work in the IT field and Nathan wants to go into computer science.
"So that's a bit odd, that two strangers who have the same interests met through bone marrow donation."
Nathan, 16, said coming face-to-face with someone to whom you owe your life was "a bit unusual".
His mum Fran added: "It was quite an emotional moment. You're meeting someone who has saved your life through a selfless act.
"There's no guarantee you're going to get on, but it was really nice because they are so similar and it wasn't awkward."
During a stem cell transplant the patient's faulty blood stem cells are replaced with healthy ones from a donor. This kick-starts the patient's immune system to make new blood cells.
Nine out of 10 donations are collected through peripheral blood stem cell collection, a process similar to giving blood which uses a machine to filter out the stem cells.
Garin donated via the rarer method of a small surgical procedure to collect bone marrow from his pelvis.
He said the process was easy and he would happily donate again. He added: "I woke up in recovery and felt a little bit groggy.
"It wasn't painful, it was just a little bit achy as if you've twisted your back."
More than 2,000 people in the UK are in need of a bone marrow or stem cell transplant every year.
But only three per cent of the population are registered as donors, meaning too many struggle to find a match.
As the pair shared their story to mark World Cancer Day on Saturday, they urged potential donors to come forward.
Garin said: "It's 10 to 15 minutes of your life to get signed up. You might never get called on but if you are, you have the opportunity to give someone a chance at life and more time with their loved ones.
"It's no burden on you. Throughout the process I felt like I was looked after."
Nathan added: "You could end up saving someone like me."
People aged 16 to 30 who are in good health can join the Anthony Nolan register. To find out more click here.


Post source: Daily Express