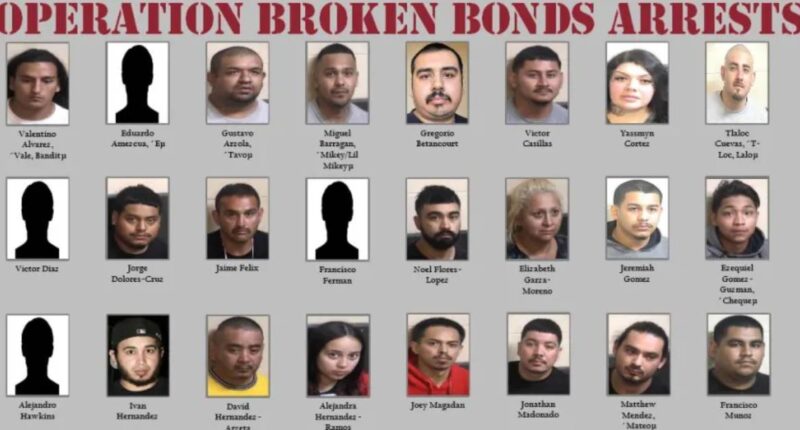 Thirty-four reputed gang members were arrested, and 64 guns, including AR-style rifles, ammunition, body armor, drugs and cash, were seized in a crackdown targeting a gang responsible for two mistaken identity murders, threats against law enforcement, and a crime spike in small farming areas in Central California, authorities said.
Some 700 local, state and federal law enforcement authorities served 55 warrants in "Operation Broken Bonds," targeting the Varrio Colonia Parlier Norteños in Fresno and Tulare counties earlier this week.
Authorities said they arrested a murder suspect in the mistaken identity killing of Silvano Mendoza, a 52-year-old farm worker, killed on a day he didn't typically work on June 13, 2021. He was in a car, pulling up to a home in Parlier when he was shot. The Fresno County District Attorney's office has filed first-degree special circumstances murder charges against Francisco Munoz Jr., 26, who was arrested in the sting.
Mendoza's daughter, Almira Mendoza, said she moved out of Parlier to feel safer.
"Nothing in this world is going to bring back my dad, nothing at all…but I feel like he's not getting 100 percent justice as he should," Mendoza told Central California ABC affiliate KFSN-TV.
Another homicide victim was 16-year-old Ricardo Chavana, Jr., a high school student with no gang ties. He was ambushed while sitting on his bed in his bedroom and shot through the house's back window in what Fresno County Sheriff John Zanoni called "a very violent, senseless act."
"They killed my son, but they also killed me," his mother, Maria Chavana, told the news station.
The gang is accused of threatening local law enforcement, including a 2022 incident involving arson against a Parlier Police Department vehicle.
The blitz capped a 100-day undercover operation focused on Norteño gang members and began in February in response to a recent surge in violence in Parlier south of Fresno.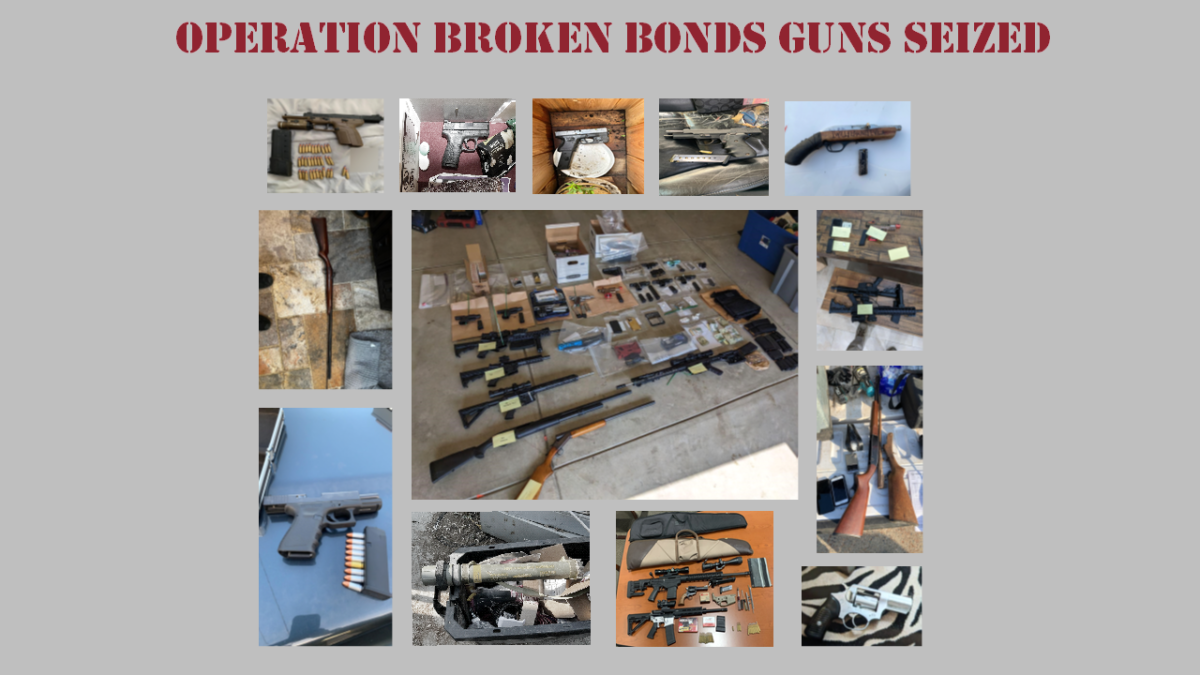 Detectives believe some suspects arrested are responsible for other unsolved murders in Parlier. They are working with prosecutors to finalize the investigations and said they're confident charges will be filed against the suspects in the coming weeks.
The arrests were expected to drop the violent crime rate in Fresno County immediately, authorities said.
Felony charges include murder, drug trafficking, gun possession, conspiracy, racketeering, carjacking, robbery and gang enhancements.
Prosecutions will take place on both the state and federal levels. Thirteen defendants were charged federally in a complaint alleging conspiracy and attempts to murder rival gang members to further Nuestra Familia and Norteño racketeering enterprises.
They also face allegations that law enforcement intervention foiled their plan to attack rival gang members. One individual faces a charge of attempted bribery of a federal officer when confronted by law enforcement. Authorities said some defendants could face up to life in prison if convicted.
Significant charges include 12 individuals being arrested for carjacking, three for home invasion, and five for conspiracy to commit murder and other felony crimes. Three others were arrested for homicide, and three additional individuals were arrested for robbery and extortion.
"Our communities are safer," the sheriff said. "People in those communities don't have to keep looking over their shoulders and don't have to put up with this level of violence that they've had to put up with for the last few months."
Fresno County Senior Deputy District Attorney Robert Veneman-Hughes said violent street gangs see the economically impacted communities in the area as prey.
"They sell drugs. They extort and rob residents. They recruit children into violence, and they kill innocent people," he said.
Prosecutors in the DA's office are reviewing charges for the others and said they'd have a list of charges for the first wave of arrestees on Tuesday afternoon, with arraignments on Wednesday. They say they will charge 16 individuals with non-homicide crimes, including home invasion, robbery, carjacking, witness intimidation, burglary, illegal possession of firearms, drug sales and street gang conspiracy.
"Yesterday, during the takedown, one of the arrested gang members looked at the list on the wall," the prosecutor said, referring to the suspects. "And he said in a moment of self-reflection, 'Man, Parlier is going to be a lot safer.'
"Well, yes, sir, that was the idea."
Have a tip we should know? [email protected]