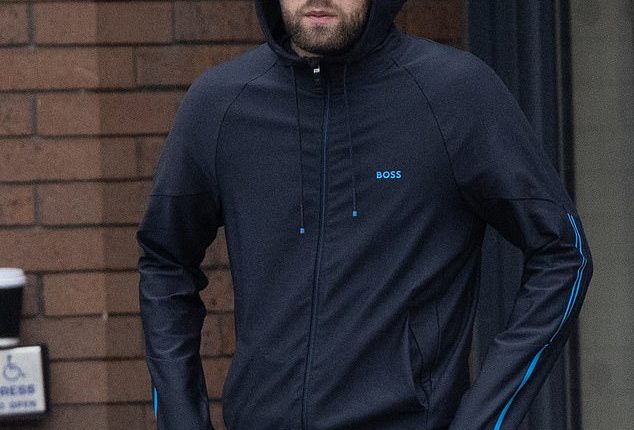 An accused thief has been cleared of robbing Formula One star Lando Norris of his unique £144,000 designer watch at the Euro 2020 final.
The McLaren driver, 23, was held in a headlock by an unknown man while the Richard Mille timepiece – one of only five in the world – was wrenched from his wrist by another mugger.
He was targeted as he walked to his sports car after England's heart breaking defeat to Italy on penalties.
Liam Williams, 25, from Bootle, Merseyside, was said to have snatched the watch leaving his DNA on the racing driver's arm.
Williams claimed he travelled to London with three friends that day, hoping to 'bunk in' to Wembley to watch the Euro final as they had no tickets.
Liam Williams, pictured outside Harrow Crown Court, was today cleared of stealing a £144,000 designer watch from Formula One star Lando Norris outside Wembley Stadium
Lando Norris, pictured, was wearing a specially commissioned time piece by Richard Mille when he was accosted outside Wembley Stadium following the Euro 2020 final by two men. One held him in a headlock, while the second stole the watch, pictured
He could offer no explanation for why his DNA was found on the racing driver's left wrist.
Williams was also unable to give police contact details for the three men he travelled with from Liverpool to London and claimed he no longer spoke to them.
He denied and was cleared of robbery after a week-long trial.
The watch known as the RM6702, was the only one in the world with a blue strap made to measure for the driver's wrist, Harrow Crown Court heard.
Despite never being made available for sale, the designer estimates the value to be around £144,000.
Mr Norris was robbed in the yellow VIP car park at Wembley Stadium after the final.
Williams said he attended a party after the final when one of the men he travelled to London warned him not to talk about the stolen watch.
'Basically, at the party with the lads from London I was on the balcony, and I was on a video call on Instagram discussing the match with a friend from home and these lads having a watch and blah blah blah and one of the lads heard me and it got a bit heated.
'They were saying "why were you discussing the watch"… I don't know if they thought I was setting them up.'
Prosecutor Tyrone Silcott said: 'So, you're saying at the party you were on Instagram, and you were telling someone about finding the watch?'
Williams replied: 'Yeah, I was just video calling a friend talking about the footy and we got onto the watch and someone overheard me speaking about it and an argument occurred.
'Then on the Tuesday I could see all these telephone calls I had a number ringing me in the night and at this point I didn't know who it was but as they were talking to me.
Williams, of Bootle, Merseyside, denied robbery and was found not guilty by a jury after just under two hours of deliberation (Pictured: Lando Norris) 
'It was the same lad I had the argument with he was just saying "don't mention anything about the watch" to "keep my mouth shut and say no more".
'He kept arguing with me down the phone and next day he did the same thing and just basically threatening me and at this point I thought I'm going to have to change my phone number.
'And when I got arrested, I changed my phone number… I was a bit scared I was getting threats and stuff,' said Williams.
'They were threatening me, and they said they knew my name… I was just scared if someone is going to threaten you, you're going to change it aren't you?'
Williams, of Bootle, Merseyside, denied robbery and was found not guilty by a jury after just under two hours of deliberation.
Post source: The List