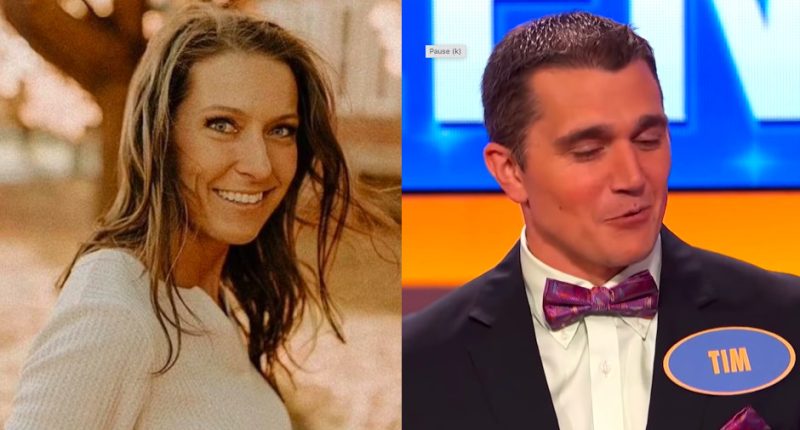 The former "Family Feud" contestant accused of gunning down his estranged wife last month once joked on the popular game show, in which contestants guess the most popular answer to simple questions, that the most common marriage regret was saying "I do."
"Honey, I love you, but, 'said I do,'" Tim Bliefnick told host Steve Harvey in the episode, which taped in the fall of 2019 and aired in January 2020.
"Not my mistake, not my mistake — I love my wife," Bliefnick, 39, added, according to a clip aired on Inside Edition. "I'm gonna get in trouble for that, aren't I?"
Rebecca Bliefnick, 41, was found dead in her home on February 23 after she failed to pick up her three children from school, as CrimeOnline previously reported. Court documents, since sealed, indicated that the Bliefnicks were going through a divorce, which was filed in 2021 amid back-and-forth protection orders filed by Rebecca against Tim and her father-in-law and Tim against Rebecca, KHQA reported. The pair, who have three children, lived separately but not far from one another.
Rebecca Bliefnick does not appear on the game show with Tim Bliefnick, his mother, and brothers.
At his bond hearing on Tuesday, Judge Robert Adrian at one point sent media and the general public out of the courtroom for the presentation of certain evidence the court feared might sway a jury pool for Bliefnick's upcoming trial. Adrian ordered him held without bond and set his next hearing for March 24.
Bliefnick's attorney, Casey Schnack, told Fox News that his client did not kill his estranged wife and that the "Family Feud" quip was just that — a joke.
"It's a game show," Schnack said. "A silly answer to a silly question on a silly show doesn't make one a murderer."
Bliefnick apparently thinks he's something of a comedian. He had a TikTok channel of "dad jokes," which has since been set to private. A Twitter user,  @901Lulu, backed up several of them.
For the latest true crime and justice news, subscribe to the 'Crime Stories with Nancy Grace' podcast.
[Featured image: Rebecca Bliefnick/Facebook and Tim Bliefnick/Inside Edition screenshot]


Post source: Crime Online