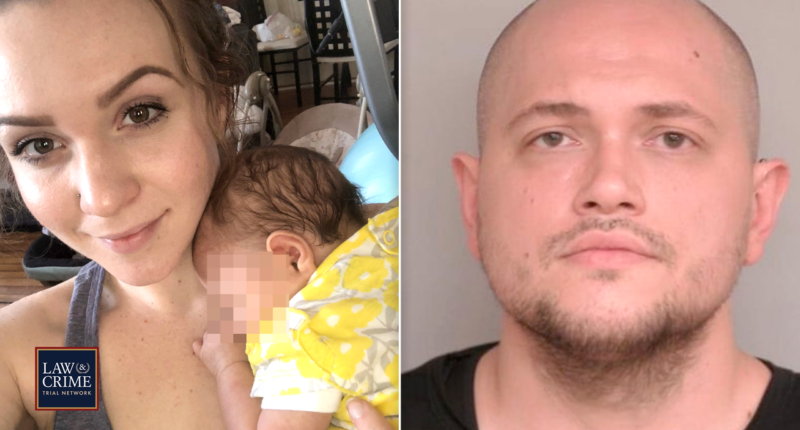 The man accused of murdering Madeline Kingsbury in Winona, Minnesota, admitted he was "infatuated" with the Gabby Petito case and told her she would end up like her if she "didn't listen up," according to a criminal complaint.
Adam Fravel is charged with second-degree murder in Kingsbury's death. Kingsbury was the mother of Fravel's two children — 5 and 2. Kingsbury and Fravel dropped off their children at daycare on the morning of March 31. She was never seen again.
Kingsbury's remains were found on June 7 by a sheriff's deputy between Choice and Mabel, Minnesota, on a property maintained by one of Fravel's family members, the complaint said. Her body was wrapped in a sheet and black Gorilla tape that matched items found in their home.
The complaint claims a concerned person told law enforcement that Fravel once told Kingsbury, "if she did not listen up, she would end up like Gabby Petito."
Petito was a 22-year-old woman from New York who was murdered by her boyfriend on a cross-country van trip in the summer of 2021. Petito died by strangulation.
Petito's boyfriend, Brian Laundrie, went missing after returning to his family's home in North Port, Florida, without Petito. His remains were found in a swamp near his parents' home. An autopsy determined he died by suicide in September 2021. Laundrie confessed to killing Petito in a letter found with his body.
The complaint says Fravel admitted he was "infatuated" with the Petito case but claimed he was making a joke when he made the remark to Kingsbury.
Text messages and video
The complaint quotes text messages between Fravel and Kingsbury where they discuss him harming her in September 2021.
"You know I'm not really okay with or over the fact that you put your hand around my neck and pushed me down in front of the kids earlier," a text from Kingsbury reads.
Fravel responded, "You'll adjust."
The complaint says on the morning of March 31, video recorded a person wearing a light-colored jacket changing the front license plate on Kingsbury's van in their driveway. That license plate was registered to a vehicle driven by Fravel, the complaint states.
Police said in the complaint they traced the movements of Kingsbury's van using traffic and surveillance cameras on March 31. The vehicle, and a person matching Fravel's description, were seen in several locations along Highway 43 toward Mabel, Minnesota, and then returning in the same direction to Kingsbury's home in Winona that afternoon.
"I think we see what I refer to as the three forensic horsemen in this case: video surveillance, internet records and phone records," said Joe Giacalone, a retired New York City Police sergeant and adjunct professor at the John Jay College of Criminal Justice.
Giacalone added on Law&Crime's Sidebar podcast, "Those are the things that are going to play big roles in many of these cases in the future, too."
A judge set Fravel's bail Friday at $2 million without conditions and $1 million with conditions.
Winona County Attorney Karin Sonneman said in a press conference after Fravel's court appearance that she would work to hold Fravel accountable.
"We have heard from so many individuals how wonderful a person Maddi was. She had a bright future, and Mr. Fravel took that from her," Sonneman said.
Have a tip we should know? [email protected]