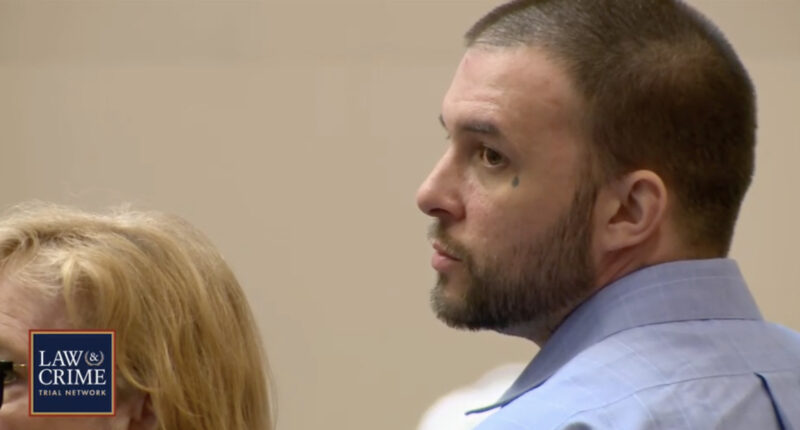 Adam Montgomery, 33, the father of long-missing and presumed dead 5-year-old New Hampshire girl, Harmony Montgomery, was found guilty on several gun charges late Thursday morning.
After just under five hours of deliberations, Hillsborough County jurors unanimously found Montgomery guilty on all counts.
The defendant originally faced eight gun-related offenses in an April 2022 indictment that stem from the theft of two guns – a rifle and a shotgun – from a home in Manchester, New Hampshire.
Two of those counts were later dropped – one charge each for being a felon in possession of a rifle and in possession of a shotgun.
The six remaining counts include two counts of theft by unauthorized taking and two counts of receiving stolen property for retaining the guns. He is also charged with one count each of being an armed career criminal, for possessing the rifle, and for possessing the shotgun. (An armed career criminal is defined as having been convicted of three or more qualifying felonies.)
His trial began in earnest with testimony in the case starting on June 1. Closings from the state and defense began Wednesday morning and deliberations began early that same afternoon.
Kayla Montgomery, the defendant's estranged wife, testified against him during the trial. She told jurors that the defendant told her the owner of the guns was asleep one day so he took them. She also said that she recalled seeing the guns in question inside their house at least three times.
Close to tears on the stand at times, Kayla Montgomery said that some of her memories are vague due to her drug use at the time, but that she clearly recalled her husband trying to sell the guns after he stole them. She also remembered the ex-wife of the man who owned the guns calling her and "freaking out" about the theft, saying that cameras at the residence would catch the thief out.
At one point, the defendant's wife recalled, the two fought over the guns he had taken from Christopher Frain.
"Because I was nervous and scared that he would get in trouble," she testified. "Because he's a felon and not supposed to have one."
The gun charges are unrelated to his daughter's disappearance and presumed death, a case in which he has been charged with her murder. His murder trial will begin in late November.
Kayla Montgomery testified against him during the recent trial and will testify against him again in that upcoming trial, as a condition of her November 2022 plea deal for perjury charges related to the death and disappearance of her stepdaughter. She also had charges of receiving stolen property – directly related to her husband's gun thefts – against her dismissed in exchange for her testimony.
The defense attempted to hamstring the efficacy of the state's star witness by noting that Kayla Montgomery's versions of evens has changed substantially over time. But in the end, it wasn't enough.
After the guilty verdict was read, Adam Montgomery's defense attorney asked for jurors to be polled. One by one, each juror read out their guilty verdict as the defendant looked on, betraying little emotion, his left-side teardrop tattoo visible to courtroom cameras.
Adam Montgomery faces a minimum 10-year sentence for each of the armed career criminal convictions alone. He faces up to 70 years in prison for all of the combined firearms counts.
His sentencing is scheduled for a later date.
Have a tip we should know? [email protected]