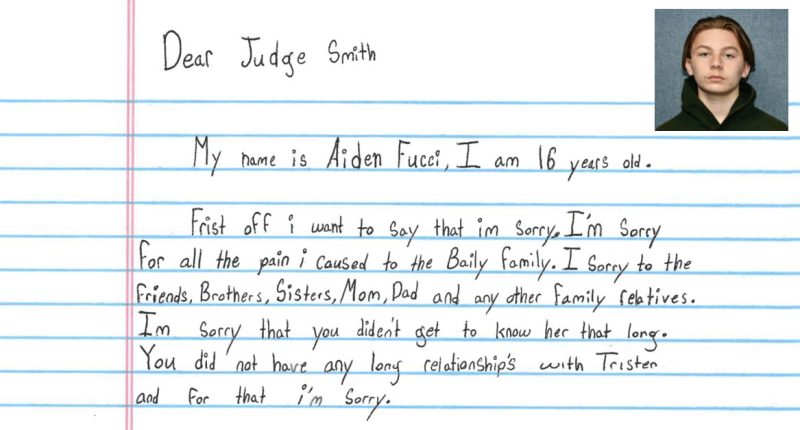 Convicted killer Aiden Fucci penned a letter to the judge who sentenced him to life earlier this month, apologizing for the murder of 13-year-old Tristyn Bailey, who he admittedly stabbed to death 114 times before dumping her body in the woods on Mother's Day weekend in 2021.
The two-page document is dated March 12, 2023, is written on white looseleaf, wide-ruled paper, and is rife with misspellings. The I's are dotted with circles
"My name is Aiden Fucci, I am 16 years old," the killer's effort at accounting for loss begins. "Frist [sic] off i want to sat that im sorry, I'm sorry for all the pain i caused to the Baily [sic] family. I [sic] sorry to the friends, Brothers, Sister, Mom, Dad and any other family relatives. Im [sic] sorry that you didn't get to know her that long. You did not have any long relationship's [sic] with Tristen and for that i'm sorry."
"For the Community i'm sorry i brought all this pain on everybody and i'm sorry and i know my apawlagy [sic] will not fix anything or bring her back but i hope it help [sic] in some way," the letter goes on.
More Law&Crime coverage: 'Poker,' blackmail and fear: The damning evidence that left Aiden Fucci little choice but to plead guilty
Filed in the St. Johns County Circuit Court, the letter was filed as part of the defendant's sentencing memorandum in an effort to show his remorse for his actions and potentially lessen his time behind bars.
The letter didn't have the intended effect.
Last Friday, Judge R. Lee Smith sentenced Fucci to life in prison with a sentence review after 25 years; essentially the harshest punishment that can be meted out to a juvenile offender in lieu of longstanding Supreme Court precedent that prohibits mandatory life in prison for children.
Fucci had offered other mitigation evidence as well, but the court was not convinced by any of it, noting that his home life was "fairly normal" and that he was of "average maturity" at the time he killed the beloved cheerleader for "no reason."
In victim impact statements, Bailey's family rejected the apology.
"I want to be clear, your insincere apology is not accepted," Forrest Bailey, the slain girl's father said. "At no point in time have I seen any remorse."
The lengthiest passages of the letter are reserved for the killer's own family members.
"And for my Dad i'm sorry that he had a bad spot in his work because of me," Fucci wrote. "I miss being outdoor's [sic] with my Dad and Brothers. I miss the fun we had like fourwheeling, paintballing, going on the long car trips. Dad your [sic] made things fun like the tarp to the fourwheeler so we could slide on the tarp behind. Dad your [sic] special because you made fun out of nothing. Love you."
"To my mom i want to send my apawlagy's [sic] as well," the letter continues. "I'm sorry that she had to move her house because people were sending threats to the house and my family. And that my little Brother and Sister had to chage [sic] school's [sic] because of me. Mom now i miss your lemon peper [sic] chicken. I miss your hug's [sic]. I miss you. The longer im [sic] in here the more i forget the more memories i Lose. I'll never forget you love me."
Have a tip we should know? [email protected]