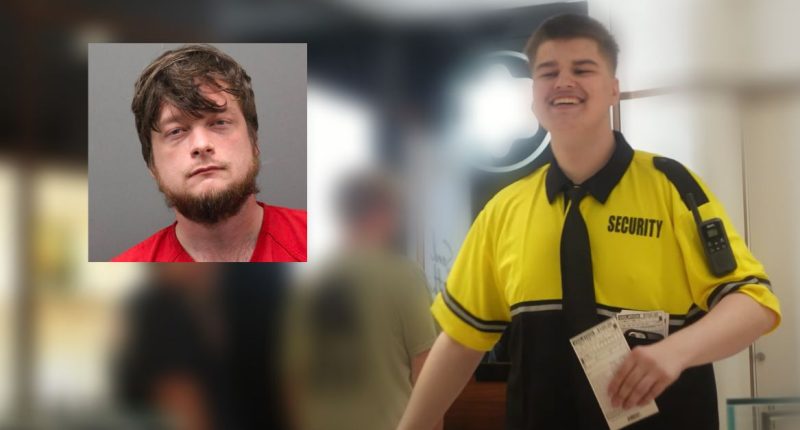 A Virginia man was acquitted after he shot a YouTube content creator during a filmed prank gone horribly awry earlier this year.
Alan W. Colie, 31, admittedly shot Tanner Cook, 21, in his liver and stomach during a prank inside the Dulles Town Center shopping mall on April 2. He faced one count each of aggravated malicious wounding, use of a firearm in the commission of a felony – malicious wounding, and unlawfully discharging a firearm within a building.
On Sept. 28, jurors in Leesburg found Colie not guilty on the two malicious wounding charges – accepting his self-defense claim.
Taking the stand last week, the defendant said he shot Cook, but did so out fear of his life. At the time, he was picking up a DoorDash delivery when a phone was placed next to his face for the prank in question, according to Washington, D.C.-based CBS affiliate WUSA. Colie told the jury that he carries a gun with him to work because he has seen reports that criminals frequently target delivery drivers.
The defendant recalled being confused by what Cook was doing – playing audio from the phone as he and his friend came up behind the delivery driver. He also said the two looked "really cold and angry."
"Colie walked into the mall to do his job with no intention of interacting with Tanner Cook," Adam Pouilliard, Colie's defense attorney, reportedly said, according to the TV station. "None. He's sitting next to his defense attorneys right now. How's that for a consequence?"
The state argued that Cook was never aggressive or threatening.
"We don't like our personal space invaded, but that does not justify the ability to shoot someone in a public space during an interaction that lasted for only 20 seconds," Assistant Commonwealth's Attorney Eden Holmes argued, in the end unsuccessfully.
The prankster also testified during the brief trial.
Jurors ultimately agreed that Colie had the right to act in self-defense. He was convicted, however, of unlawfully discharging a firearm. Under Old Dominion law, a successful self-defense claim applies to all charged conduct. A later hearing will be held where Colie's defense will ask to have that verdict set aside, according to WUSA.
During the trial, jurors were shown video of the 20-second interaction – the first time the footage was viewed publicly because it was immediately seized and entered into evidence by law enforcement.
"That was the first time I've seen the video," Marla Elam, Cook's mother, told the TV station. "No mom wants to see their son be shot by a complete stranger in an occupied place. It was very shocking and very heart wrenching."
Jurors deliberated for roughly five hours before rendering their verdict.
Cook and his family are now intent on letting the past be the past and just want to put the entire episode behind them.
"We respect what the jury says, and my family and I are just grateful and thankful that I have my son here," Elam told WUSA in response to a question. "And nothing else matters right now."
Cook himself referenced his faith when asked about the outcome.
"I really don't care," he told WUSA. "I mean, it is what it is. It's God's plan at the end of the day."
Cook underwent surgery and recuperated after the incident.
He says that despite the violence and injuries, he will continue to make videos. On his channel, Classified Goons, Cook can be seen performing pranks in a mall – with results not nearly as dramatic.
Have a tip we should know? [email protected]