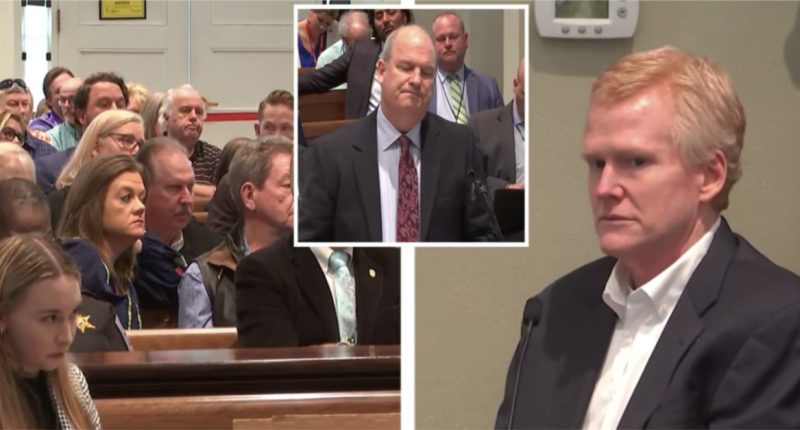 Double murder defendant Alex Murdaugh was able to testify about one of law enforcement's key failures in their investigation over an objection from the prosecution on Thursday afternoon.
"Did you get, on your shirt, high-velocity blood spatter from being within distance of shooting Maggie or Paul?" defense attorney Jim Griffin asked his client at one point.
"There's no way that I had high-velocity blood spatter on me," the defendant replied.
When Alex Murdaugh was indicted, Colleton County grand jurors were told by law enforcement that he had blood spatter on the T-shirt he was wearing the night Maggie and Paul Murdaugh were found shot and killed. That turned out to be false. The state's own laboratory testing showed no blood on the T-shirt – a fact investigators kept hidden from an expert later asked to assess the shirt for blood spatter.
The facts about that T-shirt have proven quite controversial in the case and are considered a significant black eye for the state.
SEE ALSO: Alex Murdaugh Gets a Win as State Must Turn over All Communications and Files Associated with Expert Who Provided Blood Spatter Analysis
Tom Bevel, a former Oklahoma police officer who owns and operates a self-described forensic education and consulting company, was originally intended to be the prosecution's lead blood spatter expert. The defense successfully challenged Bevel's credentials and methodology in numerous pre-trial motions, noting that in January 2022 he issued a report that said the stains on the shirt were "consistent with transfers and not back spatters from a bullet wound."
In a second report, Bevel wrote that "100+ stains are consistent with spatter on the front of the t-shirt."
That report also deletes a line saying that the shooter in question likely would have "little to no spatter" on their clothing in favor of a line saying that the shooter "is certainly in a close enough range to get spatter on their clothing."
As it turned out, Bevel's opinion about the presence of blood spatter only changed after an in-person visit from the South Carolina Law Enforcement Division. The defense also claims the state "had to lie to him" about what state-ordered testing of the shirt showed.
"SLED retained Mr. Bevel to opine that T-shirt is stained with high-velocity blood spatter that could only come from being in proximity with them at the time of their murders," one motion reads. "It did so even though the State knew on August 10, 2021 — almost six weeks before first reaching out to Mr. Bevel on September 21st — that confirmatory blood test results were definitively negative for human blood in all areas of the shirt where purported spatter is present."
SEE ALSO: Inside the Alex Murdaugh Defense: Visual Evidence, Experts, and an 'Essential' Stained T-Shirt
The state was not keen to litigate those failed efforts during the trial and essentially abandoned its blood spatter theory.
On Thursday, the defendant himself brought the issue squarely to jurors' attention and with his own preferred narrative about it.
"As far as my understanding goes, my clothes were never an issue in this case until y'all figured out, as my lawyers, figured out that there was no blood spatter on me," Alex Murdaugh said, as the stated lodged an objection over that area of testimony.
Defense attorney Jim Griffin pointed out that the blood spatter issues are "a matter of public record" in the case and Judge Clifton Newman issued a rare ruling in the defense's favor, overruling the state.
Last week, SLED agent David Owen testified that he misled the grand jury about the alleged blood spatter evidence on the T-shirt – but said he did not intend to do so. One of the state's experts, Dr. Kenneth Kinsey, even made note of some alleged blood spatter calculations in a report filed for the state. When questioned by prosecutors last week, those calculations were never mentioned.
The defendant began again.
"I'm well aware that my clothes never became an issue in this case until my lawyers proved that this blood spatter that they said I had on my shirt from my wife and my son – was a lie," he said. "And that there was no blood on my shirt. And once they filed the documents and they proved that that was a lie, all of a sudden the clothes I was wearing back on that day became an issue. And that's in the weeks leading up to this trial."
The testimony about the T-shirt and the allegedly falsified blood spatter claims were elicited from the defendant during a back-and-forth conversation about the defendant admittedly changing from a blue, button-down "dress shirt" into the T-shirt he was found wearing by law enforcement on the day of the murders. The earlier outfit has been seen by jurors in a Snapchat video where the defendant deals with a tree on his property. The state has suggested Alex Murdaugh later disposed of that blue shirt in an effort to hide evidence.
Have a tip we should know? [email protected]