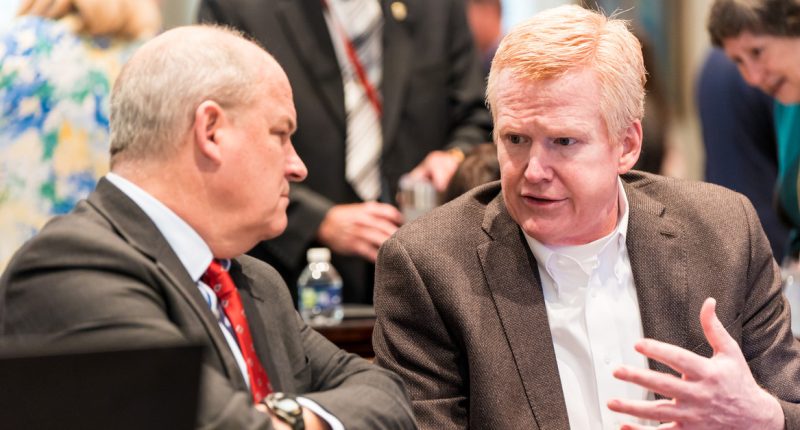 A jailhouse recording of convicted double murderer Alex Murdaugh speaking with one of his defense attorneys was released over the weekend – a recording that appears to have been made sometime during Murdaugh's recent Colleton County, S.C., trial in the shooting deaths of his wife and son.
After the call was released and widely shared, however, law enforcement backtracked and requested that people not share it.
"Alex, I really got to go to bed and call my wife," attorney Jim Griffin says on the phone call.
"I know that and I'm gonna let you go," Murdaugh says. "But the one thing I wanted to tell you. Please don't think I'm being critical about that because I'm not. I don't think you could have done a better job with him than you did today."
"Okay," Griffin says.
Murdaugh continues: "But I do think there's something to think about because there's one thing that seems to me to be a big deal. And that – I don't know that the jury understands that right now."
Griffin then signals that he understands what his client is referring to.
"No, I get it," he says. "I get it."
A few beats pass before Griffin attempts to end the call.
"Alright," he says. "I'll talk to you tomorrow."
Murdaugh then reiterates: "Alright, but remember what I said, please don't take that as me being critical because–"
More Law&Crime coverage : Buster Murdaugh breaks silence on 'vicious rumors' about Stephen Smith's 'tragic death'
Griffin interjects to reassure his client: "I'm not."
"I thought you did an excellent job with him," Murdaugh makes clear.
The two exchange farewells and note that they will talk with and see each other the next day in the final seconds of the call.
The recording was obtained and released by Hidden True Crime, a media organization run by husband-wife duo Dr. John Matthias and Lauren Matthias. The outlet produces podcasts and YouTube videos focused on true crime from the combined perspectives of "criminal psychology and journalism," according to their website.
Hidden True Crime, in a February open records request, asked for "any and all jail phone calls made, placed by" Richard Alexander Murdaugh while in the custody of the sheriff's office, the Colleton County Jail, or the South Carolina Law Enforcement Division, their South Carolina state Freedom of Information Act request says.
Lauren Matthias explained that the recording, along with 28 other phone calls that were "mostly hang-ups," was released by the Colleton County Sheriff's Office late last week. The call between Murdaugh and Griffin was posted on TikTok in order to elicit additional information about the exchange from court watchers, Matthias said.
Typically, conversations between attorneys and their clients are protected by the attorney-client privilege – which protects and is determined by the client; often a client must raise the privilege or have their attorney raise it on their behalf.
Murdaugh's attorney on the call, for his part, confirmed he was the other person and expressed outrage over the turn of events.
"It's me and I'm mad as hell," Griffin said in a tweet reply to another Twitter user's attorney-client privilege concerns about the audio. "Stay tuned."
More Law&Crime coverage: Alex Murdaugh's trial judge calls out defense lawyer for tweet criticizing 'sloppy' law enforcement investigation and compares him to Kyrie Irving
Law&Crime reached out to Griffin and a representative for Murdaugh's legal team about the audio but no response was immediately forthcoming.
Law&Crime also reached out to the CCSO for information about why they felt the call did not originally merit such protections but no response was immediately forthcoming.
In an email sent to Hidden True Crime the day after the audio was originally shared on TikTok, the CCSO requested the phone call not be shared.
"It has come to our attention that one of the calls released through the FOIA response falls under attorney/client privilege," the sheriff's office wrote in a March 18 email to the outlet. "Please do not share this call."
After this article was originally published, the CCSO attributed the release of the phone call to "human error."
"The Colleton County Sheriff's Office became aware of an attorney/client privilege call that was on social media this past weekend," an email from the sheriff's office reads. "The release of the attorney/client call was an inadvertent human error. The release of jail calls was a response to a FOIA request. All jail calls had to be screened by listening to the first few seconds of each call to determine if they fell under attorney/client privilege. Multiple calls were removed but this one call inadvertently remained in the list for release. An email was sent out to the requestor advising that the call fell under attorney/client privilege and to not share the call."
Have a tip we should know? [email protected]