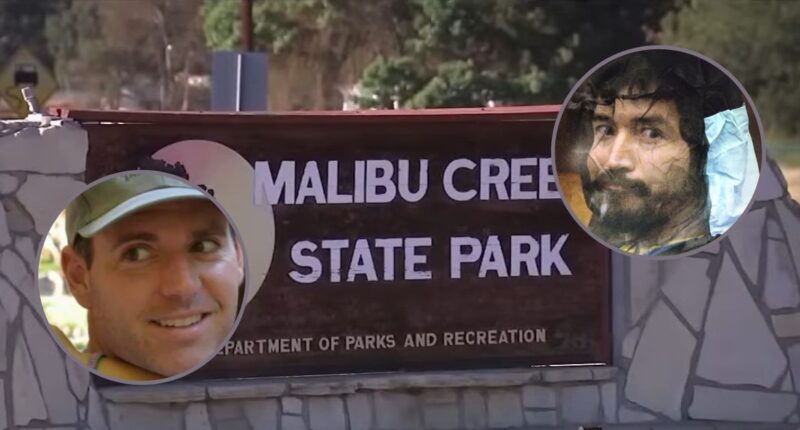 A survivalist dubbed the "Malibu Sniper" will spend the rest of his life in prison for shooting and killing a father sleeping in a tent while camping with his two young daughters who cried "Daddy, daddy, daddy!" while sitting in his pool of blood.
Anthony Rauda — in a restraint chair and wearing a spit-hood over his head in court — was sentenced on Wednesday to 119 years to life in prison after killing Tristan Beaudette, 35, who was with his daughters, then 2 and 4, in Malibu Creek State Park on June 22, 2018. The girls were not injured.
Rauda was convicted on May 26 of second-degree murder, three counts of attempted murder, including two involving Beaudette's daughters, and five counts of residential burglary. Rauda, 46, was acquitted of seven other attempted murder charges involving other early-morning shootings in the same area.
Los Angeles Superior Court Judge Eleanor J. Hunter said Rauda was "cold-blooded" and smart, a dangerous combination, City News Service reported.
In Rauda's trial, the prosecution's first witness, Stacey Sebourn, who was camping nearby, testified that she was awakened early that day by what she thought were shotgun or rifle gunshots, CNS reported.
She heard a man calling for help and a crying baby, CNS reported.
"It was a very mournful cry for daddy over and over again — daddy, daddy, daddy,"' she said, according to CNS.
Rauda, a survivalist who lived off stolen food and slept outside, was dubbed the "Malibu Sniper," CBS News reported.
Deputy District Attorney Antonella Nistorescu told jurors the evidence against Rauda was overwhelming, CNS reported.
The prosecutor said ballistics testing linked a rifle found in a backpack Rauda was carrying at the time of his arrest to the bullet that killed Beaudette and the shooting that damaged a car days earlier, CNS reported.
Nistorescu said he finally "managed to do what he had persistently" been trying to do when he killed Beaudette while sleeping beside his daughters, CNS reported.
Rauda's attorney, Nicholas Okorocha, said there was "reasonable doubt" involving the charges against his client.
Beaudette's brother-in-law, who was camping in a tent nearby, testified he heard loud popping sounds and one of Beaudette's children crying. He said he found Beaudette dead as his two daughters kneeled next to him in a pool of blood, CNS reported.
Rauda was arrested in late 2018 in a ravine in Malibu Creek State Park. He had a rifle in his backpack and was on probation after having served time in state prison for possessing explosives and a loaded gun, The Associated Press reported.
The shootings prompted officials to shut down the park, famous for serving as backdrops for movie and TV shows such as "M.A.S.H.," for nearly a year.
Have a tip we should know? [email protected]