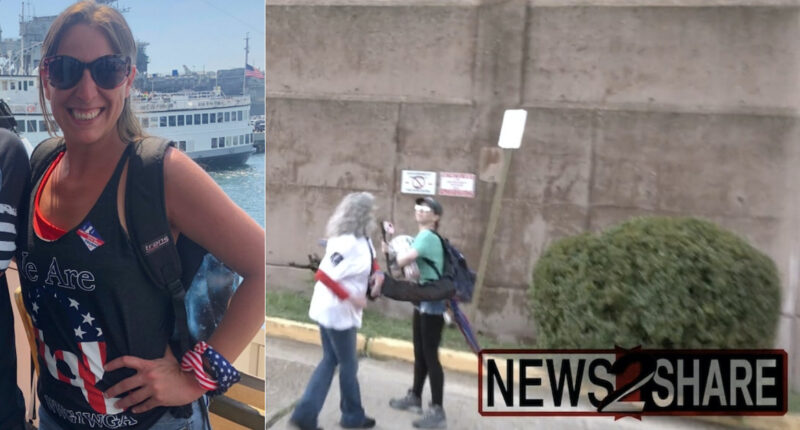 The mother of deceased Jan. 6th rioter Ashli Babbitt was arrested a day after being seen on tape grabbing a bullhorn from a counterprotester and chucking it on the ground at a far-right demonstration near a jail in Washington, D.C.
Babbitt was shot to death by police after trying to force her way into the Speaker's Lobby, the area separating the riotous mob from where federal lawmakers were hiding and being evacuated.
On the afternoon of Memorial Day, mother Michelle "Micki" Witthoeft attended a rally supporting those prosecuted in connection with the Jan. 6 attack on the U.S. Capitol. In a livestream from the protest captured by News2Share, a counterprotester heckled the demonstrators and blared the siren of her bullhorn. Witthoeft could be seen grabbing the bullhorn from her hand, pulling it away, and throwing it on the ground.
The counterprotester later reported the incident to police, who arrested her late Tuesday.
Witthoeft's arrest report indicates that the incident took place at 1801 E Street SE on May 29 at around 6:28 p.m. ET, and it was reported to police a little more than an hour later at 7:47 p.m. ET.
The report's description of the incident is thin, and it says only that Witthoeft's alleged victim reported being "assaulted" and "pushed" with an open hand.
On Jan. 6, Babbitt — motivated partly by her belief in QAnon conspiracy theories — joined a throng of pro-Donald Trump protesters at the Capitol. An Air Force veteran, Babbitt pushed to the barricaded doors of the Speaker's Lobby, and she tried to climb through a broken window. She had been wearing a backpack then, and law enforcement warned rioters from entering the area. After Babbitt's fatal shooting, a Capitol Police investigation cleared the officer who pulled the trigger of wrongdoing and commended him for protecting the Capitol.
"The actions of the officer in this case potentially saved Members and staff from serious injury and possible death from a large crowd of rioters who forced their way into the U.S. Capitol and to the House Chamber where Members and staff were steps away," U.S. Capitol Police wrote in a statement nearly two years ago. "USCP Officers had barricaded the Speaker's Lobby with furniture before a rioter shattered the glass door. If the doors were breached, the rioters would have immediate access to the House Chambers. The officer's actions were consistent with the officer's training and USCP policies and procedures."
When that investigation concluded in August 2021, authorities had not released the name of the officer who pulled the trigger, citing "numerous credible and specific threats" against him. His name had been leaked to far-right websites, and the lieutenant, who is Black, was barraged with racist abuse. He later went public and identified himself as Lt. Michael Byrd.
Have a tip we should know? [email protected]