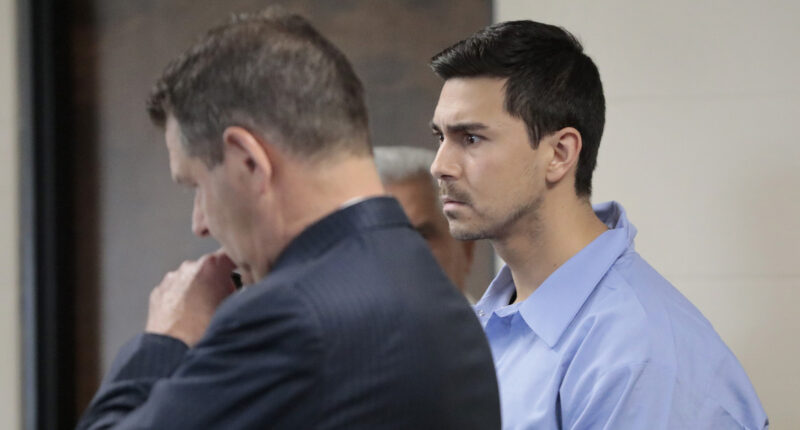 A Manhattan corporate attorney accused of terrorizing women in Boston as a serial rapist over 15 years ago has now been indicted on several additional sexual assault charges.
Matthew Nilo, 35, was previously indicted on three counts of aggravated rape, two counts of kidnapping, one count of assault with intent to rape, and one count of indecent assault and battery.
He was arrested in late May after being lured to his apartment building in Weehawken, New Jersey, by Boston police and federal agents, law enforcement said at the time. The defendant was arraigned and pleaded not guilty in a Suffolk County courtroom in early June.
This week, he was indicted on a bevy of new charges, including rape, aggravated rape, three counts of assault with intent to rape, and two counts of indecent assault and battery on a person over 14, local media outlets reported. The incidents occurred between January 2007 and July 2008, according to reports. One of the victims was attacked twice in January 2008 – with less than two weeks separating each harrowing incident, according to local ABC affiliate WCVB.
"Mr. Nilo denies all the allegations including the latest charges," a defense attorney for Nilo told the TV station. "You can expect both a legal and factual challenge to the government's case."
Nilo allegedly assaulted the victims named in the new indictment once in January 2007, twice in July 2007, twice in January 2008, and once in July 2008. He would have been in college at the time. Prosecutors outlined a similar pattern in each case: women walking alone in the dark, according to the Boston Herald. The new indictment alleges the five attacks occurred in the North End neighborhood.
Each of the four previously charged incidents is said to have occurred in the historic Charlestown neighborhood of Boston. The defendant himself was raised in the North End – which is located just across the Charles River.
"FBI agents were able to obtain various utensils and drinking glasses they watched the defendant use at a corporate event," Assistant District Attorney Lynn Feigenbaum testified during his initial arraignment. "From one of the glasses, the Boston Police Crime Lab was able to obtain a male DNA profile, which is found to match the suspect profile from the three Terminal Street rapes."
The defendant was granted pretrial release with GPS monitoring on the first set of charges. His girlfriend posted his $500,000 bail on June 15. Nilo's next court appearance is slated for July 19. During that hearing, he will be formally charged with the new counts.
"We will release more information at arraignment, but I can tell you today that DNA evidence played a role in these new indictments," Suffolk County District Attorney Kevin Hayden told the Herald. "I can also tell you that the cooperation and coordination between our office, the Boston Police Department and the FBI has played a major role in our ability to secure today's indictments and to give the survivors of these crimes the ability to see their attacker held accountable for his actions."
Have a tip we should know? [email protected]