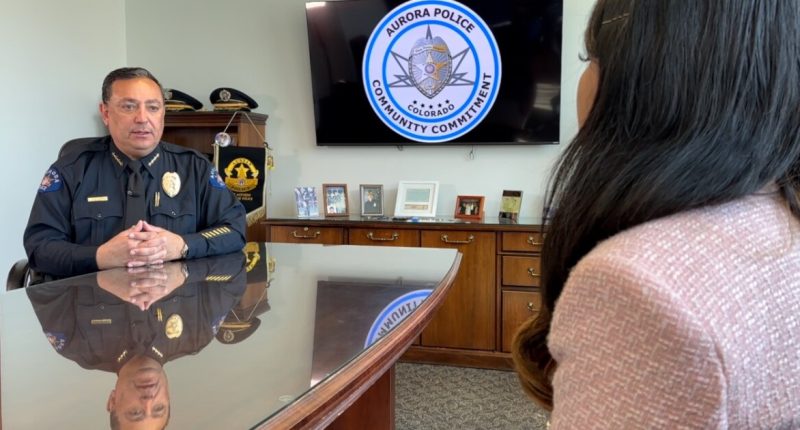 AURORA, Colo. — There is a policy change in the works at the Aurora Police Department when it comes to how officers handle police chases.
Interim Police Chief Art Acevedo said he wants to loosen restrictions to not let people get away so easily.
"It's going to require an all hands on deck approach," said Chief Acevedo. Denver7 sat down with him on Friday morning. He said he's on a mission to combat crime in Aurora.
"What you're going to see is the Aurora Police Department is going to be more aggressive," he added. "More aggressive when it comes to not letting criminals get away."
"I'm always driving around the city in my police vehicle; I hear not just us, but other agencies constantly, 'person just took off.' And we don't give chase," said Chief Acevedo. The shift in policy would allow officers to chase more than they do now.
"They're going to learn that if they want to run, they better stay out of this city because we're not going to do this. [We're not going to] Just let them go anymore," he said.
Chief Acevedo told Denver7 that last year they engaged in around 45 pursuits — less than one per week.
The Chief is the first to admit that this will put pressure on his officers to have good judgement and for the community to know what's coming and be more aware of their surroundings.
"We have so many people right now that are so distracted when they drive, they're on their phones, they got the music blaring. They need to be aware they need to be on the lookout for those lights and those sirens, especially the lights."
He did not shy away when we turned the questions from his new policy to a fatal crash involving one of his own.
"That is a tragedy that is just beyond, I have no words to describe, when we lose a life like that, our officer didn't have lights and sirens on. And that's something that is under investigation by the Colorado State Patrol. And obviously, we're investigating internally. It is a tragedy that will not pass us without us taking all the lessons that we learned from that, that make sure we don't we do everything we can to safeguard the lives of the people here in this community," he added.
Still — Chief Acevedo said loosening chase restrictions is good for the public because the way he sees it, the sooner these criminals get off the streets, the better it will be for innocent people who are just trying to make a living, raise a family, run a business, and just have a safe life.
The chief adds there is no set timeframe for when the changes will be implemented but plans do it sooner rather than later.
---
The Follow Up
What do you want Denver7 to follow up on? Is there a story, topic or issue you want us to revisit? Let us know with the contact form below.


Post source: CB