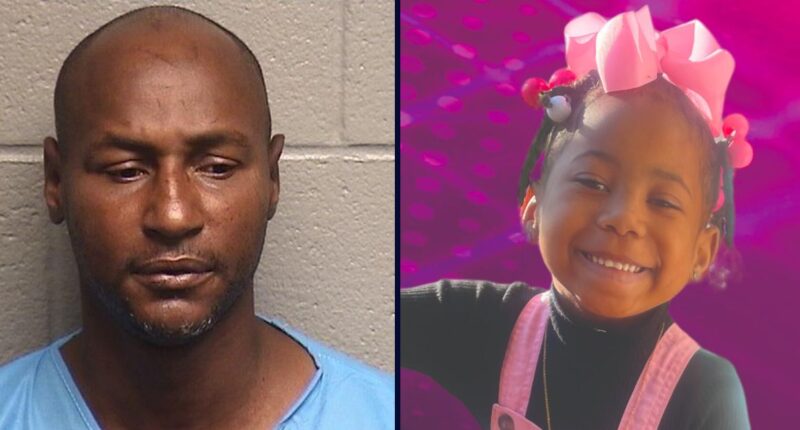 Khloe Fennell was all of 5 years old when she was shot several times in her own home and killed earlier this summer by her first cousin, according to law enforcement in North Carolina.
The alleged killer is the cousin of Brittany Dash, who is Fennell's mother.
Another girl, Destiny Sidberry, 15, used her own body in an effort to protect her younger cousin. She sustained seven gunshots during the would-be massacre and miraculously survived.
"Tell Brittany I tried," Sidberry said as police arrived.
Brian Deshan Luster, 42, stands accused of one count each of murder in the first degree, attempted murder, and possession of a firearm by a convicted felon, according to Durham County Jail records reviewed by Law&Crime. He is currently being detained without bond.
The underlying incident occurred on July 5 at a since-shattered home on North Guthrie Avenue – minutes away from downtown Durham.
Recently released court documents obtained by Raleigh NBC affiliate WRAL shed some insight into the shooter's possible state of mind as the man allegedly tried to eradicate his young female cousins.
"She said LUSTER was behaving strange and sweating," a warrant citing an initial police interview with Sidberry reportedly says. "[Sidberry] said LUSTER retrieved a handgun from a bedroom in the home and said he was dying and they were coming with him."
As officers made their way into the residence, the assailant was allegedly trying to finish Sidberry off. The warrant reportedly says the teenager was "in what appeared to be a headlock in one of the bedrooms."
The 1-year-old was uninjured – saved by Sidberry's selfless and heroic actions as the violence quickly spiraled, an autopsy report determined. The teenager shoved the baby into a closet before it was too late. Then she used her body to try and shield Fennell.
"He was trying to take everybody in that house out with him, and she was a hero," Fennell's godmother, Ericina Ruffin, told Durham-based ABC affiliate WTVD. "She jumped in front of those kids to save their life."
Sidberry was babysitting Fennell and a 1-year-old when Luster arrived that day. But the defendant's appearance wasn't out of the ordinary.
Dash had given him shelter and comfort amidst a life of hard and harder times. Tar Heel State court records show dozens of prior offenses for Luster dating back to 2001; several years of his life have been spent behind bars. When the violence occurred, the alleged killer was addicted to opioids and told police he was seeking treatment.
"Brittany is one of those people, if you need someone, she's giving it to you," Francine Gray, a friend of Dash, said in comments to WRAL just after the attack. "You need a place to stay, she'll open her doors for you. She was helping someone out, letting him stay here."
The recently released warrant also alleges that Luster himself sat down with police just after the incident, the TV station reports. During that recorded interview, the defendant allegedly spoke about his visit to a methadone clinic that day. He also allegedly said he remembered calling 911 to say he thought he was dying – before blacking out.
A defense attorney is reportedly working to have Luster's interview suppressed – arguing the defendant was not adequately Mirandized.
"He took the best part of me; that was my child, that was the best thing I've ever done in my life," Dash told WTVD. "She loved him, so for you to take my baby away from me, you're a coward."
"You took something so precious from us," the grieving mother added.
Fennell was remembered fondly by her loved ones.
"She was strong, very strong since the day she was born," cousin Davona Hallion told WTVD. "Always happy. She always thought she was a mermaid."
Dash is now facing an insurmountable loss. Even as the community has rallied around the crestfallen family.
"Jesus loves the little children, all the little children of the world. Since we know this to be true, we understand He only takes the very best," her obituary reads. "During these tender moments, family members and close friends will embrace the parents & Family as the reality of not being able to see Khloe grow up and creating precious memories were stopped too soon. As pure as Khloe was not having to live in this fitful world. Her mother and father can find comfort knowing that every time they see the sun shine or see a butterfly or even feel a soft breeze, it will remind them that she is right there with them."
Luster's next court date is currently slated for Oct. 12.
Have a tip we should know? [email protected]