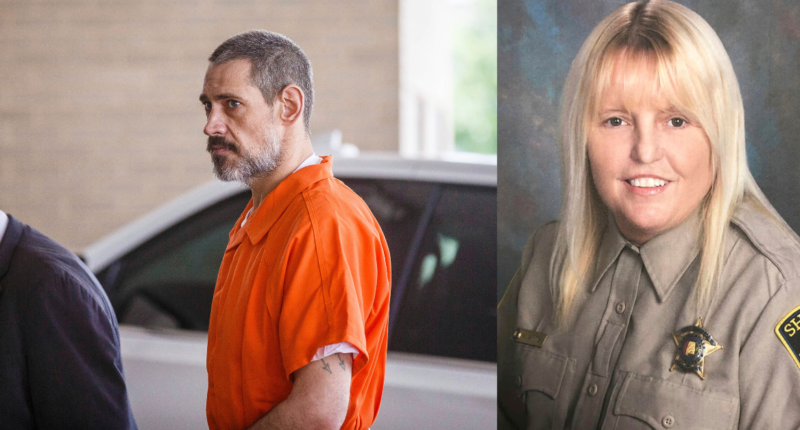 A man who fled jail with the help of his now-dead jail guard lover was sentenced Thursday to life in prison with the possibility of parole in connection to the torrid escape.
Casey Cole White, 39, said in court that he loved Vicky White, 56.
"I feel like the most hated man in the world," he said, adding that he did not want to drag Vicky's name through the mud.
Vicky White, assistant director of corrections for the Lauderdale County Sheriff's Office in Alabama, helped Casey White escape jail while facing a capital murder trial for allegedly stabbing Connie Jane Ridgeway, 59, to death in a 2015 murder-for-hire plot, authorities said. Casey White is already serving a 75-year sentence for a multi-state crime spree after being convicted in 2016 on charges of attempted murder, burglary, robbery, kidnapping, animal cruelty, and trying to elude law enforcement.
"Casey doesn't want to be labeled monster, and he's not," Nick Lough, one of the defense lawyers, told Law&Crime.
Authorities have said that the inmate and his guard were in a "special relationship."
According to AL.com, Lauderdale County Sheriff Rick Singleton said the star-crossed lovers had spoken together some 949 times between August 2021 and late February 2022 while Casey White was incarcerated at the William Donaldson Correctional Facility in Jefferson County. This included "some phone sex."
When taking the inmate out of jail, guard White told her subordinates she was taking him for a mental health evaluation, would drop him off, and then seek medical attention for herself because she felt ill, the sheriff said. Though traveling alone with inmates violated jail policy, no one challenged her on this because of her seniority, Singleton suggested.
The sheriff voiced sympathy for Ridgeway's two sons when inmate White was on the run.
"We thought we had closure for them to a point, and now that's totally upside down," he said.
The 11-day search for the inmate and guard reached a bloody end near Evansville, Indiana. Vicky White died by suicide using a gun, authorities said. She had been with the sheriff's office for about 25 years, Singleton reportedly has said.
"Please help my wife," Casey White said, according to the U.S. Marshals in an NBC News report. "She just shot herself in the head, and I didn't do it."
Indicted for felony murder in Vicky's death and escape in the first degree, Casey White pleaded guilty to the escape charge last month. Lough told Law&Crime that escape in the first degree, as a class B felony, is generally just two to 20 years in prison, but his client was sentenced as a habitual offender.
In court, Casey White apologized to Vicky's family for what happened and said that her family was the most important thing to her.
"This is a love story, and love makes you do crazy things," Lough told Law&Crime.
He declined to discuss the case in detail because of the upcoming murder trial scheduled for August.
More Law&Crime coverage: Escaped inmates accused of officers' murders captured
Angie Dorr, Jason Kandel, and Colin Kalmbacher contributed to this report.
Have a tip we should know? [email protected]