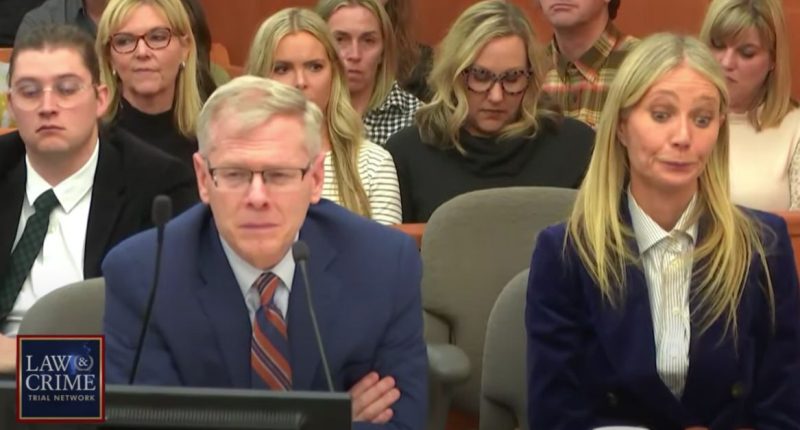 Gwyneth Paltrow, the GOOP lifestyle brand founder and CEO and "Sliding Doors" actress, is being sued in a Utah court by a retired optometrist over a 2016 ski crash at the Deer Valley resort. Paltrow is also countersuing Terry Sanderson over that incident in a trial that concluded Thursday in the Third District Court in Park City.
Closing arguments ran the gamut.
Aside from rehashing key pieces of evidence and testimony, Paltrow's lead attorney Stephen Owens said his client lost valuable bonding time with the component parts of what would eventually become her new family. Sanderson's attorneys said he lost quite a bit more.
"February 26, 2016, he anticipated, like many, many other days in his life, a fun day of skiing," the plaintiff's lead attorney Robert Sykes said during closing arguments. "He never returned home that night as the same Terry. He never came home – figuratively speaking. Terry has tried to get off that mountain – but he's really still there. Part of Terry will forever be on the Bandana Run – figuratively speaking."
"We hope you will help bring Terry home off that mountain with a fair verdict today," Sykes added later on, in a direct plea to the jury.
Paltrow's second-chair attorney James Egan concluded the defendant's closing by reprising the plaintiff's own mountain theme.
"Mr. Sanderson is asking to be compensated for a ski injury that the evidence shows that he himself caused," Egan argued. "And the evidence also shows that his life is not the mess he perceives it to be. Ms. Paltrow wants him off the mountain too, but she should not be responsible for the cost of that."
On rebuttal, Sanderson's attorney Robert Sorensen flipped the use of the mountain theme back on Paltrow's side – in a rare effort to cast the Hollywood actress as callous and out-of-touch, saying the plaintiff had warned jurors from the outset of the trial that the defendant would put a lot of "So, what?" on the table in lieu of evidence.
"That's what they're saying about Terry Sanderson's injuries," Sorensen argued – acridly recasting the defense's arguments. "'So, what? He was injured before. His injuries carry through. So, what? So sorry he was left on the mountain – we'd like him off. So, what?""
Sorensen also said it was hard to sue a celebrity – prompting an objection from Owens. "I don't want her lumped in with other celebrities," the attorney said – after being overruled.
The Utah doctor filed his lawsuit against the actress and several others in January 2019, alleging her actions were negligent and resulted in "permanent traumatic brain injury, 4 broken ribs, pain, suffering, loss of enjoyment of life, emotional distress and disfigurement." Paltrow countersued Sanderson in February 2019, claiming that he was the one at fault. Both Sanderson and Paltrow claim the opposing party rammed the other person from behind.
Timelines have been more or less strictly observed – Judge Kent Holmberg parceled out a set number of hours for each side and tolled them against the time spent in front of jurors. The case has, however, seen a substantial number of objections, sidebars, and recesses. Both sides frequently asked the court to deal with issues away from jurors.
More Law&Crime coverage: Gwyneth Paltrow trial judge rejects demands for directed verdict moments before closing arguments begin
Ultimately, the case ended in the jurors' hands. The question was if one person was entitled to the other person's money – or if either is.
Michael Jaafar, a personal injury attorney who practices in multiple jurisdictions, said the Academy Award winner didn't do herself any favors when she took the stand late last week.
"She was awful in this case. At one point the plaintiff's attorney asked her what the trial has done to negatively impact her life and her answer was 'an afternoon of skiing,'" he said, paraphrasing testimony in the case. "You don't have to be an expert on jury deliberation to know what this is going to do to her. But it will not be a good element."
During her testimony, Paltrow said: "Well, I lost a half a day of skiing," a line recently highlighted by the outdoor culture magazine Mountain Gazette in a collection of merchandise lampooning the trial.
Leaning into this line of thought, Jaafar even tagged the actress as the most compelling witness – but for the worst (for her side).
"She won an Oscar, yet she put on a shameful show with her testimony," he said. "She helped the plaintiff a lot."
Of course, the woman perhaps most famous these days for playing Pepper Potts may still yet win before Beehive State jurors due to Sanderson's activities well before legal action ever commenced.
"The idiot plaintiff sent a message to his daughter that he 'was going to be famous' because he was hit by Paltrow," Jaafar said, paraphrasing an email admitted into evidence and shown to jurors – and repeatedly referenced – throughout the trial. "This is going to make him look like a fame-monger."
More Law&Crime coverage: Gwyneth Paltrow ski crash trial likely to be anything but simple, legal experts say
Jaafar told Law&Crime that the best Sanderson could martial was "a ton of high paid experts that cobbled together the best possible reenactment of the incident that money can buy."
The law firm owner known as "Big Case Mike" praised the work performed by the attorneys for both sides but said their clients were less than ideal.
"These guys are sharp and they did the best they could with terrible facts," he told Law&Crime. "The plaintiff's attorney had an inexperienced client that harmed his case with pretrial statements. And the defense had Paltrow, who clearly could not be handled enough to be a good witness."
Jurors began deliberations around 1:45 p.m. Mountain Standard Time before reaching a verdict a few hours later, determining that Paltrow was not at fault in the crash, and finding Sanderson 100% at fault.
Have a tip we should know? [email protected]