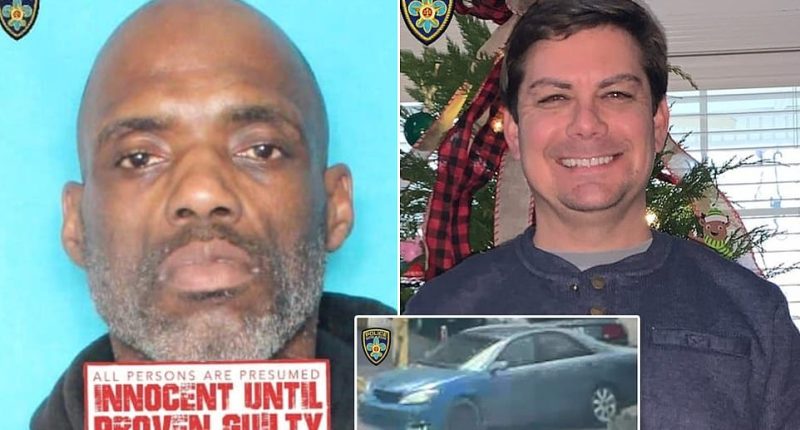 Cops arrest man, 45, over death of Georgia father-of-five, found dead of accidental overdose in rolled up carpet: Suspect 'was seen driving stolen car near crime scene'
Advertisement
Police in Louisiana have arrested a man in connection to a father-of-five's death – after his body was found rolled up in a carpet and dumped in a parking lot. Derrick Perkins (pictured left), 45, was arrested Tuesday on charges of damage to property, three counts of access device fraud and unauthorized use of a motor vehicle. He is not accused of killing Nathan Millard (pictured right). He is, however, accused of using the deceased's debit card and was allegedly seen driving a stolen 2004 Toyota Camry near the crime scene.
Millard – known for being a family man – was found dead, wrapped in plastic and rolled up in a carpet near 2900 block of Scenic Hwy, Baton Rouge after he reportedly died of an accidental overdose on March 6.
Perkins had allegedly spray painted the car's bumper, removed stickers and swapped license plates when the news about the father's death came to light. Police have accused him of trying to 'disguise' the car.
On Monday, they found the vehicle burned. He has not been accused of any wrongdoing in connection to the death. Police claim that there is surveillance footage of Perkins using Millard's debit card at two businesses within days of the dad's disappearance.
Millard, who was in the area to scout out a job site for the construction company he worked for, was last seen around 11:30pm on February 23 at Happy's Irish Pub on Third Street in the downtown area. His cause of death is unknown and will be determined by the East Baton Rouge Parish Coroner's Office.
The father-of-five from Walton County, Georgia, had traveled to Baton Rouge for what was supposed to be a 24-hour business trip, his wife Amber had previously said.
But after a Louisiana State University basketball game and drinks at the pub with his work client, Millard never made it back to his hotel room a short walk away. The room was reportedly not disturbed and he hadn't shown up to a scheduled meeting the next morning. Milliard's phone was found not far his hotel (pictured).
Images from surveillance footage showed Millard leaving the Courtyard Marriott where he was staying that night with his work client. Millard's wife Amber previously told WSB TV that he had FaceTimed her that night from the LSU basketball game.
She said there was no text from him when she woke up the next morning, which was unusual for the family man. Amber (pictured left) also said that police told her that they had surveillance video of a person withdrawing money from his debit card at the ATM near a Greyhound bus station.
Want more stories like this from the Daily Mail? Visit our profile page here and hit the follow button above for more of the news you need.
Post source: The List