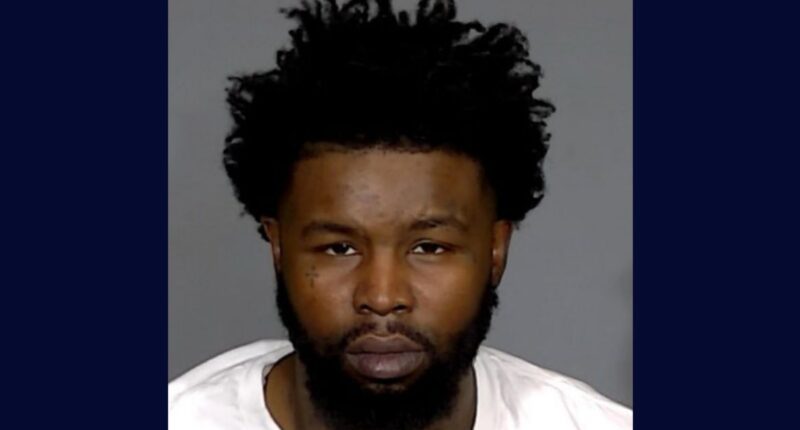 After two years of dodging a murder charge out of Minnesota, 28-year-old Kevin Mason was finally taken into custody in Indiana on Sept. 11. Despite the brevity of the charge, his stay in jail was short-lived. Mason strolled out of the jail as a free man two days later due to a clerical error.
He remains on the lam.
Now, the Marion County Sheriff's Office in Indianapolis and the U.S. Marshals Service are searching for Mason, described as a 5-foot-9-inch Black male weighing about 205 pounds with a cross tattoo under his right eye and "SUB" tattooed on his chest. He also has a neck tattoo.
"I want to reassure you and the public that a round-the-clock manhunt has been underway ever since," Col. James Martin with MCSO told reporters on Tuesday. "… We will not rest until he is recovered."
Martin said the agency waited nearly a week to alert the public because it wanted the "tactical advantage" of Mason not knowing cops were out looking for him.
"We have used this time, the quietness of this situation, to not run him further underground," Martin said.
So, how was an accused murderer set free?
According to Martin, Mason had three different warrants from three Minnesota law enforcement agencies. A "hold" basically means an inmate should remain in jail. A jail clerk saw the three holds and eliminated two of them on Sept. 12, thinking they were duplicates, Martin said.
Then authorities in Ramsey County, Minnesota, waived extradition on the third. And, violá, no more holds meant Mason could be released.
"This was an error," Martin said. "This should not have happened."
At a Wednesday press conference, Marion County Sheriff Kerry J. Forestal said officials realized their mistake of releasing Mason about six hours after he walked out of the jail. Forestal said after Mason was released, he called his girlfriend for a ride. She later bought a new cellphone, went to Walmart to buy men's underwear and a travel kit, and got an oil change.
Forestal said the woman's actions are the "kind of the disgusting type of behavior you expect when you're assisting a criminal," adding that the Sheriff's Office has been "tracking" the woman since they learned of Mason's accidental release but haven't seen her with Mason. They also have a few homes under surveillance, he said.
The woman, Desiree Oliver, 29, was arrested Wednesday on an assisting a criminal charge. She is not cooperating, the sheriff said.
Forestal defended the agency's decision to wait six days to alert the public, saying they used the "covert operations to continue to follow" Oliver without anyone knowing.
Now, they plan to be more overt because authorities believe he is still in the Indianapolis area, he said.
"Our plan is to look throughout the city with this uniformed presence and make it uncomfortable for anybody who might be keeping him," Forestal said. "So if somebody who wants to get him out of their house … sit him on the front porch, and we'll come by. When we knock, we're not going to knock the way we usually do."
Mason is charged in the 2021 shooting death of Dontevius Catchings. According to Indianapolis CBS affiliate WCCO, Catchings was killed in a shootout outside a memorial for another shooting victim in June 2021. The Hennepin County Attorney's Office charged Mason with second-degree murder about two months later.
The two Marion County Jail clerks who made the error have been fired, Martin said. Forestal chalked up the clerks' errors to being overworked and underpaid.
Martin said they believe Mason has been living in the Indianapolis area since 2021. Minneapolis police said at the time of the shooting that Mason may have fled to Florida.
"We believe he has evaded law enforcement since 2021. We believe that he is pretty good at what he does," Martin said.
Catchings' sister told Indianapolis Fox affiliate WXIN that the release is unacceptable. She said Indiana and Minnesota law enforcement officials are to blame for the mistake.
"For 27 months, I've been trying to get some type of justice, and then now I just feel like we're back at square one," said Shannell Catchings. "I just felt like not only is it Indiana's fault, I feel like it's Minnesota's fault as well."
From MCSO:
Individuals with information are urged to call Crime Stoppers at 317-262-TIPS (8477). Mason is also encouraged to turn himself in through our Safe Surrender program by calling 317-327-SAFE (7233). If actively sighted, please call 911 immediately, but do not take any action yourself.
Have a tip we should know? [email protected]