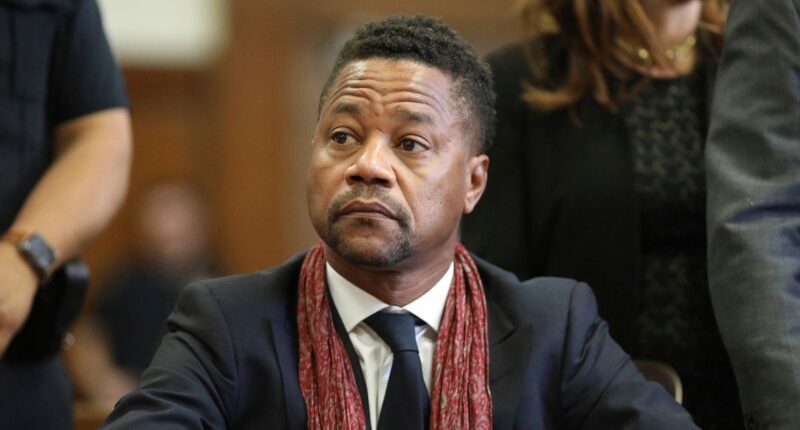 Actor Cuba Gooding Jr. will not have to face a jury in the federal civil rape case brought against him by an anonymous plaintiff.
The Academy Award winner settled the case, filed in August of 2020 by a plaintiff identified in court filings only as "Jane Doe," shortly before jury selection was supposed to begin in a federal courthouse in downtown New York on Tuesday.
"There will be no trial in the above matter," a tersely worded email from a spokesperson for the U.S. District Court for the Southern District of New York said. No additional details were provided.
In the complaint, Doe alleged that she and a friend met Gooding at a restaurant in Greenwich Village in 2013. She says the group decided to go to a nearby hotel lounge and that Gooding convinced her to come up to his hotel room while he changed clothes. Doe alleges that while in the room, Gooding blocked her from accessing the door, pushed her onto the bed, and raped her twice.
Gooding's lawyers have said the encounter was consensual.
Although the case was filed anonymously, U.S. District Judge Paul A. Crotty had recently ruled that Doe would have to reveal her name at trial.
Doe's complaint sought $6 million in damages. In July of 2021, Crotty issued a default judgment in that amount against Gooding, finding that he had "completely fail[ed] to engage" with the case. In September of 2021, Crotty set aside that ruling, with Doe's agreement.
Gooding has been accused of sexual misconduct by dozens of women in recent years. In April of 2022, in connection with a criminal sexual abuse case in New York state court, Gooding pleaded guilty to a single harassment violation in a case brought by three women who say he forcibly touched them without consent. One of the alleged victims called the settlement — which allowed the actor to avoid jail time — a case of a celebrity receiving special treatment.
The three women in that case were expected to testify at the federal trial.
Doe's lawyer is Gloria Allred, who has long represented women accusing high-profile celebrities of sexual abuse and other misconduct.
"We have no comment at this time," Allred told Law&Crime over email. Attorneys for Gooding did not immediately respond to Law&Crime's request for comment.
Have a tip we should know? [email protected]