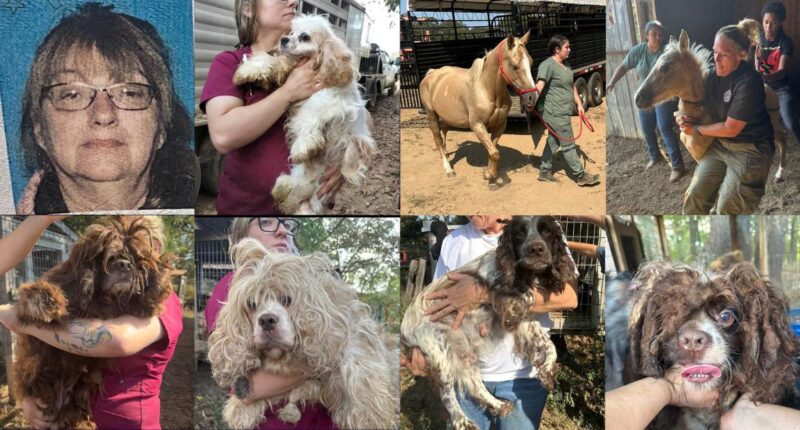 Authorities in northern Alabama arrested a woman on animal cruelty charges after they found nearly 30 dead horses and 20 living horses, and 45 dogs in poor condition.
The Colbert County Sheriff's Office on Sunday arrested Debra Jane Catledge, 63, on 15 counts of animal cruelty, the agency said in a Facebook post. More charges are expected following a grand jury proceeding, the post said.
The Colbert County Animal Control posted several pictures on Facebook of dogs with overgrown and matted hair and malnourished horses.
"To say that the last 2 days have been rough is an understatement!" the shelter wrote. "We are exhausted, mentally and physically! We are beat down, we are sore, but we made it through! We have such an amazing team and support group!"
Animal Services Director Cory Speegle described the horrific conditions to Huntsville ABC affiliate WAFF.
"We pulled up in front of the house, we could hear the dogs barking. We noticed a row of kennels with dogs, four or five deep in elevated kennels. Pretty bad conditions, hair matted up, living in pee, poop, feces… just really bad conditions," Speegle told the outlet.
More on Law&Crime: 'The whole property just smelled like death': Woman arrested after 3 dozen dead dogs and horses allegedly found on ranch with 'skeletons everywhere'
Animal control officers told the station that the dead horses were found in the back of the property.
"There was an area that was just basically bones that was in the back. There was really not a lot left to be able to determine the cause of death," said animal control officer Whitney Hamby.
Fox affiliate WZDX reported that court records show Catledge faced animal cruelty charges in 2014. As part of her plea agreement, she was no longer allowed to breed dogs, the station reported.
In its Facebook post, the animal shelter thanked all its volunteers for their hard work, which was described as devastating and heartbreaking.
"These babies are getting the life they all deserve because of all of our awesome teamwork! Our community has really stepped up and showed out for them!" the post said.
Have a tip we should know? [email protected]