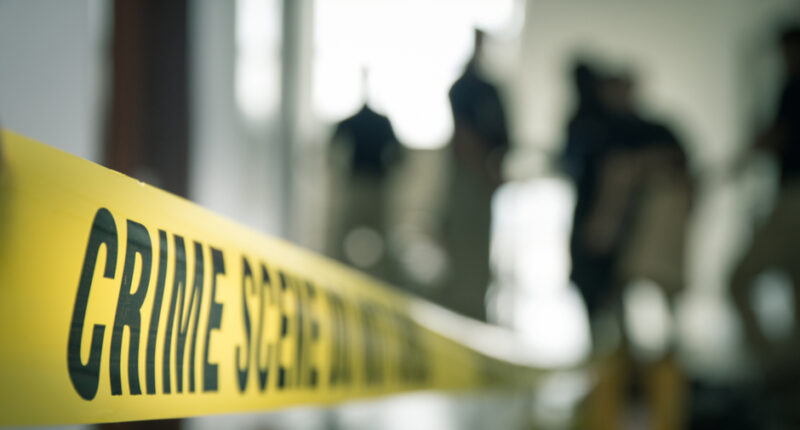 A Colorado deputy chief of police was arrested last week on domestic violence charges and fired from his job.
Empire Police Chief Andrew Lorenz told KMGH that the Arapahoe County Sheriff's Office notified them of Deputy Chief Keith Sandford's arrest.
Lorenz said Sandford was fired for violating department policies.
"The Empire Police Department values high morals and expects the highest level of its employees, both on and off duty," he said.
According to KUSA, an arrest affidavit said Sandford was charged with domestic violence and aggravated assault in an incident reported by his wife.
The affidavit says that Sandford's wife called the sheriff's office from the hospital on September 7 to report an incident that took place four days before. The deputy met the victim at the hospital, where she told him that she and Sandford had been out to a gathering and argued upon returning home when he got "upset about an interaction [she] had with another person."
The victim said Sandford hit her on the back of the head with his fist, and she fell to the floor and lost consciousness "for what she believed to be a few minutes.
The affidavit says Sandford was on top of her, pushing his forearm into her throat, when she regained consciousness. She reported having trouble breathing and said she managed to kick him off and barricade herself in the bedroom. The next day, her husband was gone.
Doctors determined she "sustained serious bodily injury to her throat from being strangled by Keith during the altercation" and had a concussion, the affidavit said.
Exams also found a large bruise on her knee and smaller ones one her arms "that appear to be finger marks from being grabbed." She also said she felt pain when swallowing and has suffered from frequent headaches and nausea since the attack.
The victim also gave deputies video footage from a living room camera that contained audio corroborating her story.
Sandford denied strangling his wife and said he only "slapped her" when she hit him first.
Sandford is due in court on Wednesday, court records show.
For the latest true crime and justice news, subscribe to the 'Crime Stories with Nancy Grace' podcast.
[Featured image: Shutterstock]


Post source: Crime Online