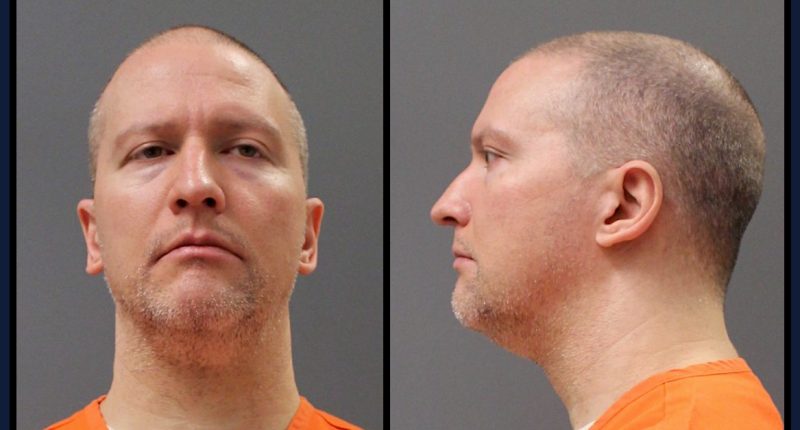 Derek Chauvin, the former Minneapolis police officer who was convicted of killing George Floyd, pleaded guilty on Friday to two counts of tax evasion.
The convicted murderer was sentenced to 13 months in prison after he admittedly withheld tens of thousands of dollars from Minnesota tax authorities over the course of several years.
Chauvin will not have that additional sentence tacked onto his already lengthy prison stay, however, as Washington County Judge Sheridan Hawley gave him credit for time served. The court appearance came via Zoom as Chauvin is currently serving a 22-and-a-half-year sentence for Floyd's murder at a prison in Tucson, Arizona.
On April 20, 2021, Hennepin County jurors convicted Chauvin of second-degree murder, third-degree murder, and second-degree manslaughter for Floyd's death on May 25, 2020. The internationally famous killing was caught on a cellular phone video and shared widely, sparking one of the largest protest movements in U.S. history. Chauvin was sentenced for Floyd's murder in July 2021.
Earlier this year, an attorney for the convicted killer asked an appellate court to throw out his murder convictions based on media coverage of his murder trial, which was televised.
More Law&Crime coverage: Derek Chauvin's Lawyer Asks Appeals Court to Toss Murder Convictions, Citing 'Overwhelmingly Hostile' Media Coverage
The tax investigation began in June 2020 after a tip about Chauvin's finances was submitted to the Minnesota Department of Revenue.
The defendant and his now ex-wife, Kellie Chauvin, were charged later that year with underreporting their income from 2014 through 2019.
The then-couple was convicted of failing to pay taxes on some $464,433 of joint income over the years in question, including roughly $95,000 that the ex-cop earned from working as a security guard.
Kellie Chauvin pleaded guilty to two counts of aiding and abetting tax fraud last month in a plea deal that will ensure she does not go to prison, CBS News reported. Instead, she is likely to be sentenced to three years probation, and up to 45 days of community service. She is expected to be sentenced to pay restitution in excess of $38,000. Her sentencing hearing is currently slated for May 12.
During his own hearing, Derek Chauvin explained to the Zoom call attendees and the court that he and this then-wife were having financial problems and had even been forced to seek help from a family member who gave them money to pay off their tax debt.
This is the second time in three separate prosecutions that the former member of law enforcement has been granted substantial leniency.
Chauvin is also serving a 21-year federal prison sentence for violating Floyd's civil rights. In July 2022, he struck a plea deal with federal prosecutors for violating Floyd's civil rights during the fatal encounter.
More Law&Crime coverage: Derek Chauvin Sentenced to 21 Years After Striking Rare Type of Plea Deal on Federal Civil Rights Charges Connected to George Floyd's Death
Under the contours of that deal, Chauvin was allowed to serve both sentences concurrently and he was transferred to a federal prison.
Have a tip we should know? [email protected]