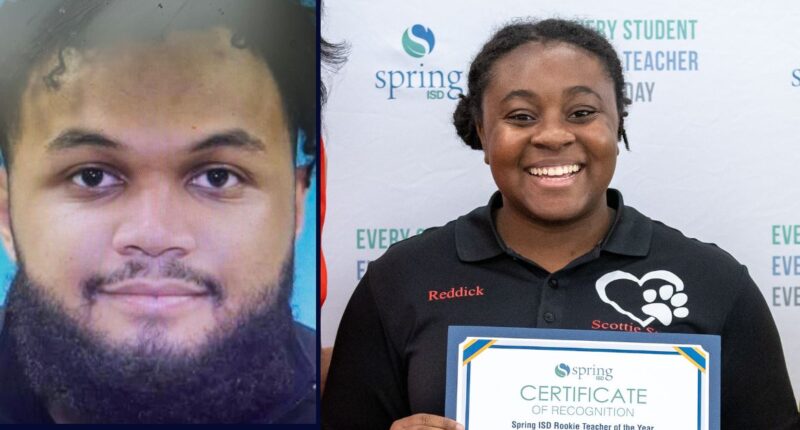 A Texas woman who just last year was named a Rookie Teacher of the Year was shot dead, along with her dog, while she was saving her friend from a domestic disturbance, police said.
Houston Police Chief Ed Gonzalez wrote on X, the site formerly known as Twitter, that Shantavia Reddick, 26, went to her friend's home Saturday morning to intervene in an ongoing domestic disturbance. Reddick, who had her dog with her, was making contact with her friend when she was shot multiple times by her friend's boyfriend Dimitri Humphrey, Gonzalez said. Humphrey also shot her dog. Both Reddick and her dog were killed, Gonzalez said.
"Reddick saved her friend's life, giving her own," Gonzalez said.
The girlfriend was uninjured and Humphrey remains on the run, according to Gonzalez. Humphrey fled the scene in a white Jeep Wrangler, with a Texas license plate of TFN-4278, Gonzalez said.
Reddick's death has left her students and co-workers reeling. She was a third grade teacher at Smith Elementary School, which is part of the Spring Independent School District in Houston. Reddick was named a Rookie Teacher of the Year by the district at the end of the 2021-22 school year.
More on Law&Crime:'Cat's dead on the floor': Nurse convicted of murdering girlfriend after telling cops 'I probably did it' and surviving gunshot through forehead
"Spring ISD is deeply saddened about the passing of one of our 3rd-grade teachers, Ms. Shantavia Reddick. Ms. Reddick, who had been with Spring ISD since 2020, was a beloved team member at Smith Elementary School. This is a deep loss for not only Spring ISD but to public education as a whole. Our hearts are with her family at this very difficult time," the district said in a statement.
Reddick graduated from Prairie View A&M in 2020 with a degree in interdisciplinary studies, Houston CBS affiliate KHOU reported.
"Obviously making a huge impact in our community and taken far too soon at only 26 years old," Gonzalez told the TV station.
Gonzalez said the shooting is an example of how domestic violence situations can be dangerous for everyone involved.
"You know, we always encourage people to seek the help of others, and here, apparently, that was in the works, and this time it turned very tragic so it's just a heartbreaking situation," he told the outlet.
Anyone with information is asked to call Crimestoppers Houston at 713-222-TIPS (8477)
Have a tip we should know? [email protected]