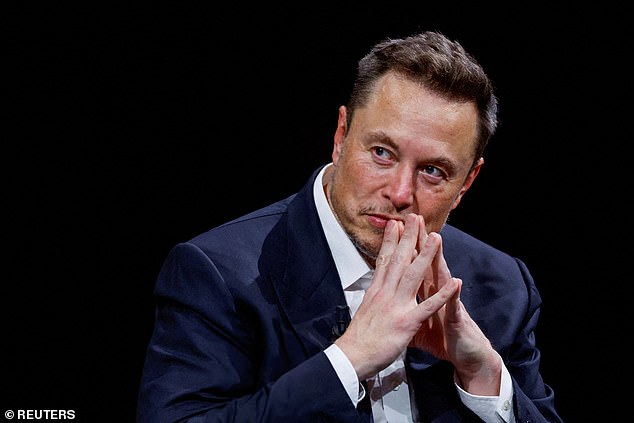 Elon Musk calls for San Francisco lawmaker Dean Preston to be fired for blaming vehicle break-ins on tourists leaving their stuff in cars
Democrat District 5 supervisor Preston claimed tourists should be tasked with curbing spiraling thefts
He said visitors should be 'pounded' with the message not to leave things in cars
But X owner Musk slammed comments and called for him person 'most responsible' SF's 'destruction'

Elon Musk has called for a San Francisco lawmaker to be fired after he suggested tourists could prevent soaring thefts sweeping the Dem-led city by not leaving their items in cars.
The former Tesla boss took aim at city supervisor Dean Preston over comments he made earlier this week.
Preston suggested that the spate of car thefts plaguing the city could be solved if tourists took more care with their possessions.
He likened the proposal to the massive 'buckle up' campaign of the 1980s which encouraged drivers to take responsibility for their own safety by using seatbelts.
In a post on X, formerly known as Twitter, he wrote: 'We need as a City to pound in every way possible the message to visitors: do not leave anything in your car. Do this and we'll dramatically reduce car break-ins.'
But tech tycoon Musk, 52, slammed his comments and called for him to be removed from his position.
Elon Musk hit out at San Francisco lawmaker Dean Preston after he the city 'pound' tourists with a message about not leaving possessions in cars as a means of dealing with soaring thefts
Democrat supervisor for District 5 Dean Preston (pictured left) is the person 'most responsible for the destruction of San Francisco' according to Musk
Responding to a post which suggested that cops should fill cars with valuables and catch thieves in sting operations Musk said: 'Absolutely. Also Dean Preston needs to be fired. He is arguably the person most responsible for the destruction of San Francisco.'
Musk also went on to pledge to double another X users $50,000 donation to 'Dump Dean' campaign. 
Preston had previously pointed to statistics which showed there were around 20,000 car break-ins each year except in 2020 during the pandemic when tourism fell and break-ins dropped by more than 40 per cent.
The Golden Gate city is currently in the grip of a crime wave which has seen thefts and carjacking soar. 
According to crime data recorded between January to September 2023 robberies leapt by 15.9 percent from the same time last year. Meanwhile, motor vehicle theft spiked by 10.8 percent.
Around 40,000 Bay Area residents are thought to be homeless on any given night in the Bay Area, according to a study by Yahoo.
Tourists have repeatedly found themselves at the center of violent crimes in the Californian city. 
Musk took to his social media platform X, formerly known as Twitter, to slam San Francisco lawmaker Dean Preston's record
Earlier this week, shocking footage captured the moment a tourist was left clinging to the side of his own van after carjackers sped off with him at 60mph when he tried to stop the break-in.
Musk's comments come after Preston drew criticism for proposing a policy that would prohibit store security guards from drawing weapons.
Preston suggested drafting the law in the wake of protests over the killing of unarmed Banko Brown, 24, who was shot by Walgreens security guard Michael Earl-Wayne Anthony.
Anthony had his murder charge dropped after the city's DA ruled his actions were self-defense because he feared being stabbed. 
But the law drew anger from critics who described it as 'incitement to robbery'.
Post source: The List