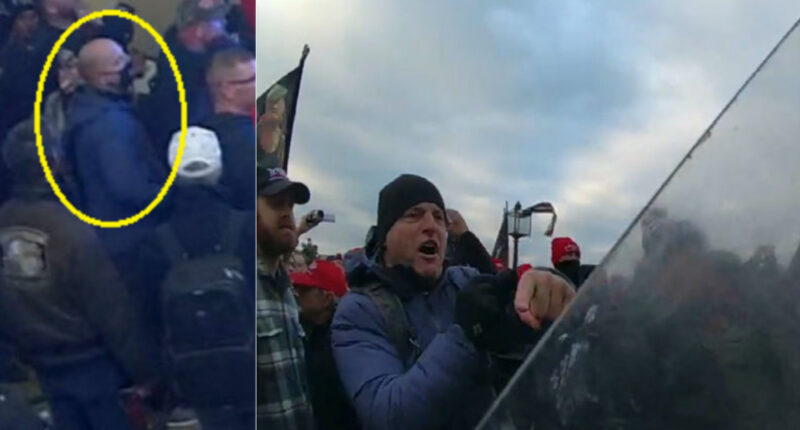 A former FBI supervisory special agent has been indicted on multiple Jan. 6-related felonies, including civil disorder and assaulting police, prosecutors announced on Thursday.
Jared Wise, a 49-year-old from Bend, Oregon, allegedly shouted "Kill 'em!" when rioters attacked a police line.
Prosecutors say that the ex-FBI leader's menacing comments were caught on police body camera footage.
In the late afternoon on the Upper West Terrace of the Capitol, Wise told Metropolitan Police Department officers at around 4:21 p.m. ET: "You guys are disgusting. I'm former—I'm former law enforcement. You're disgusting. You are the Nazi. You are the Gestapo. You can't see it," according to an affidavit supporting the charges.
Authorities say that Wise then repeatedly shouted to the officers: "Shame on you!"
With his indictment, Wise joins the more than 320 accused rioters charged with assaulting or impeding law enforcement.
When he saw rioters knocking down and attacking police, Wise turned in the direction of the violence and shouted: "Yeah, f— them! Yeah, kill 'em!"
Wise allegedly continued the chant later: "Kill 'em! Kill 'em! Kill 'em!"
Five police officers died after defending the Capitol on Jan. 6, 2021, including multiple officers who took their own lives in its wake.
In addition to the two top felony counts, Wise also stands accused of four misdemeanors: knowingly entering or remaining in any restricted building or grounds without lawful authority; engaging in disorderly or disruptive conduct in a restricted building or grounds; uttering loud, threatening, or abusive language, or engaging in disorderly or disruptive conduct, in any of the Capitol Buildings; parading, demonstrating, or picketing in any of the Capitol Buildings.
Prosecutors say that Wise served as an agent and supervisor with the FBI from 2004 through 2017.
Authorities believe that Wise lived in New Braunfels, Texas, until June 25, 2022.
Some months later on Nov. 30 of that year, the FBI interviewed a manager in his building, whom authorities say identified the suspect from his driver's license photograph and a still frame from body camera footage.
In December 2022, authorities conducted surveillance of Wise's forwarding address in Oregon.
Scores of then-current and former law enforcement officials or military personnel have been charged in connection with the Jan. 6 attack. Several leaders of the Oath Keepers, a right-wing organization that caters to ex-military and law enforcement, were convicted in jury trials. Its leader Stewart Rhodes, and others, were found guilty on the top charge of seditious conspiracy.
In another recent case, a D.C. police lieutenant who supervised the Intelligence Branch of the Homeland Security Bureau was charged with allegedly leaking information about a criminal investigation of Proud Boys leader Enrique Tarrio to him.
In May 2022, former Marine Kevin Creek was sentenced to more than two years in prison for assaulting law enforcement on Jan. 6.
Read the FBI's statement of facts about Wise's case here.
Have a tip we should know? [email protected]