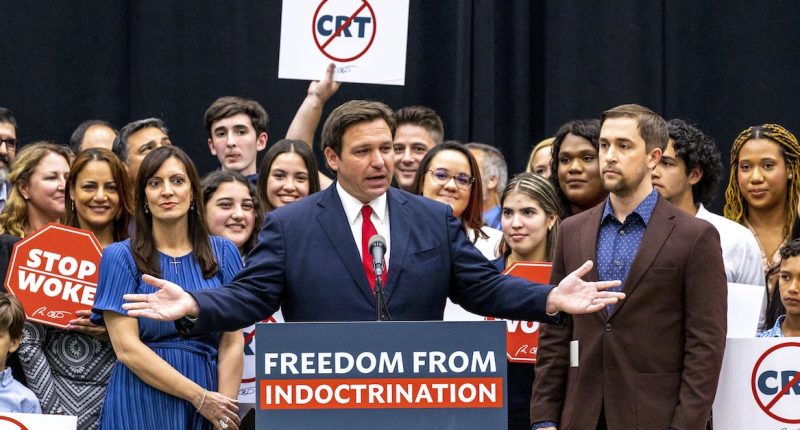 Public university professors in Florida may continue to share their opinions about racism, sexism, and discrimination in the classroom — at least for now — after three federal judges upheld a ban on enforcement of a controversial law that GOP Gov. Ron DeSantis has hailed as fighting "indoctrination."
A three-judge panel upheld an injunction against the so-called "Stop W.O.K.E. Act," which DeSantis has said provides teachers with "tools to stand up against discrimination and woke indoctrination." The legislation — HB 7, formally called the "Stop Wrongs to Our Kids and Employees Act" — is aimed at blocking teachers from offering their opinions on what DeSantis described as "pernicious ideologies" that could potentially make students, because of their race, feel personally responsible for past racism, sexism, or other discrimination in the U.S.
Critics have said it's an attempt to stop meaningful discussion of the ongoing effects of longstanding systemic discrimination and topics including critical race theory and privilege.
A federal district judge issued an injunction blocking enforcement of the law in November. On Thursday, three judges on the 11th U.S. Circuit Court of Appeals upheld that ruling.
"Appellants' motions to stay injunction pending appeal are DENIED," the ruling said (emphasis in original).
The tersely worded order came with additional instructions, should the defendants decide to challenge the ruling.
"The Clerk is DIRECTED to treat any motion for reconsideration of this order as a non-emergency matter," the order said.
The order was signed by U.S. Circuit Judges Charles Wilson, a Bill Clinton appointee, and Britt Grant and Barbara Lagoa, both Donald Trump appointees.
Within months of the law being enacted, two lawsuits over the legislation had been filed. In August, Black professors and a student filed a civil rights claim, calling the law "racially motivated censorship."
A student and professor, represented by the advocacy organization Foundation for Individual Expression (FIRE), sued in September, accusing the law of violating First Amendment free speech protections.
In November, U.S. District Judge Mark Eaton Walker issued a preliminary injunction prohibiting enforcement of the law, calling it "positively dystopian" and accusing Florida officials of demanding that public university professors act as "the State's mouthpieces" in the classroom.
"Professors must be able to discuss subjects like race and gender without hesitation or fear of state reprisal," a spokesperson for FIRE told Law&Crime in an email. "Any law that limits the free exchange of ideas in university classrooms should lose in both the court of law and the court of public opinion."
A spokesperson for the governor expressed confidence that DeSantis will ultimately prevail.
"The Court did not rule on the merits of our appeal," DeSantis press secretary Bryan Griffin said in an email. "The appeal is ongoing, and we remain confident that the law is constitutional."
A spokesperson for the State University System of Florida Board of Governors told Law&Crime that the board does not comment on pending litigation.
The federal docket doesn't indicate a future hearing date. Briefs from the state defendants are due in April.
Have a tip we should know? [email protected]