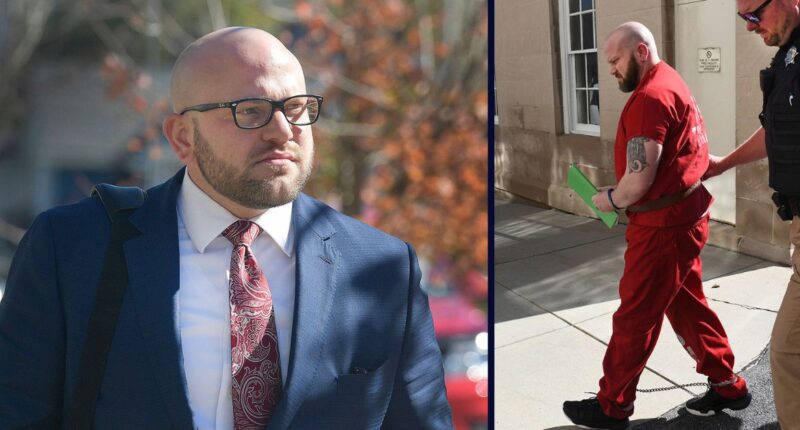 A former prosecutor who broke into a woman's home and assaulted and strangled her is being sued alongside city officials for violating and failing to protect her civil rights.
Jeffrey Thomas, a former district attorney in Somerset County, Pennsylvania, was convicted in March for violently attacking and assaulting the woman, identified in court documents as Jane Doe, after breaking into her home in September 2021. He is currently serving up to seven years behind bars and must register as a sex offender, according to Pennsylvania officials.
Now, Doe is suing Thomas and Somerset County officials for civil rights violations. She alleges that the city looked the other way despite Thomas having a pattern of behavior that indicated he was capable of such violence.
"Upon information and belief, Defendant Thomas had a history of being disrespectful, sexually harassing and even assaultive to women," the complaint says. "This history had previously gone undisciplined and uncorrected and, in essence, these past actions were condoned and encouraged by policymakers and decisionmakers in Somerset County."
Thomas, who was elected to the Somerset County District Attorney's Office in 2019, had initially met Doe in the fall of 2018 when Thomas had expressed interest in buying a car from her. He changed his mind about the car, according to the federal lawsuit, but "continued to send her unwanted texts in the following months."
Those texts allegedly included Thomas repeatedly mentioning his role in the DA's office and showing up at a restaurant Doe was known to frequent with her friends. His behavior escalated from there: he went uninvited to her apartment multiple times, even though she had never given him her address, and at least twice tried to get into her place while she "hid under a blanket and shut off her phone." He also sent her sexually graphic and explicit text messages, many of which "included references to sexual activities accompanied by physical suffering."
Then, in September 2021, the complaint says, Thomas "entered Plaintiff's home without her permission, [and] physically and sexually attacked her in her living room while her minor child was upstairs asleep." He strangled her during the attack and repeatedly punched her while sexually assaulting her, the lawsuit says.
According to the complaint and her trial testimony, Doe was afraid to report Thomas to police because of his role as DA. She says that city officials were on notice as to his behavior and potential dangerousness but didn't do anything about it.
More from Law&Crime: 'That '70s Show' actor Danny Masterson sentenced to 30 years to life in prison for raping 2 women
"[T]he conduct exhibited by the Defendant which occurred on September 18, 2021 was not unexpected," the complaint says. "[T]hey constituted predictable behaviors of an inappropriately elected and retained, psychologically and/or emotionally unfit and inadequately trained individual who also operated with perceived impunity due to the deliberate indifference" of county officials.
The lawsuit accuses city officials of failing to "properly train, supervise, screen, discipline, transfer, counsel, remove or otherwise control employees and/or elected officials who were known, or should have been known, to engage in the use of harassment and excessive force, including those elected officials repeatedly accused of such acts."
Doe's claims include violation of her right to bodily integrity, unlawful seizure and excessive use of force, negligence, and intentional infliction of emotional distress.
Thomas is reportedly planning on appealing his conviction.
Read Doe's complaint, below.
Have a tip we should know? [email protected]