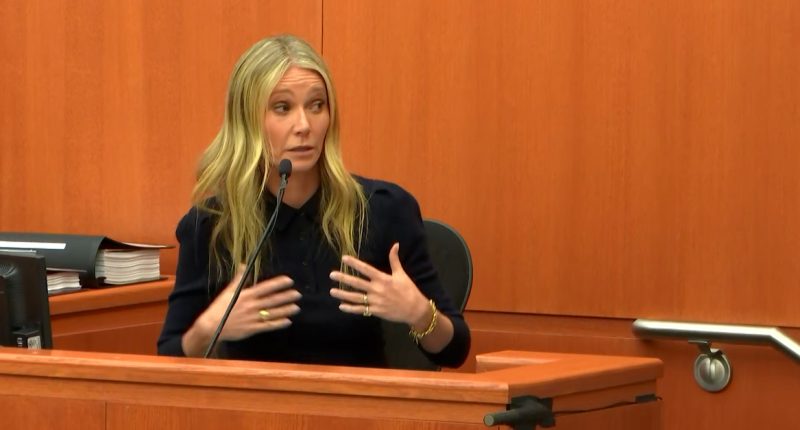 Gwyneth Paltrow originally, but only briefly, thought her 2016 ski crash with a retired optometrist might have been a sexual assault, the actress testified in court in Utah late Friday afternoon.
Kristin Van Orman, an attorney for the plaintiff Terry Sanderson, asked the Academy Award-winning defendant about her recollection of the incident on the slopes about midway through direct examination – going through Paltrow's 2020 deposition over an overruled objection.
"I was confused at first," the defendant said, remembering the crash as described in her deposition. "And I didn't know exactly what was happening. It's a very strange thing to happen on a ski slope."
Van Orman then read directly from Paltrow's deposition, quoting her: "I didn't know if it was an intentional assault of a sexual nature."
The witness signaled that those were her words.
"Was he grinding and thrusting or something?" Van Orman asked. "Or just the noises? What made you think it was a sexual assault?"
Paltrow replied that the idea of sexual assault was "a quick thought that went through my head when I was trying to reconcile what was happening. I was skiing and two skis came between my skis, forcing my legs apart, and there was a body pressing against me and there was a very strange grunting noise."
More Law&Crime coverage: Gwyneth Paltrow ski crash trial likely to be anything but simple, legal experts say
The actress went on to say her mind "was going very, very quickly" trying to ascertain and make sense of what was happening.
"Is this a practical joke?" Paltrow recalled. "Is someone, like, doing something very perverted? This is really, really strange."
The plaintiff's attorney then read from the deposition again: "I think you said: 'I didn't know if it was an accident but he was groaning and grunting in a very disturbing way.""
Paltrow agreed, adding: "Yes, there was a sort of groan coming out of his mouth."
The attorney and the witness then went through a few more lines in the deposition regarding the immediate impact and aftermath.
Ultimately, Paltrow and Van Orman agreed that there was no sexual assault.
The direct examination of the "Proof" actress was oftentimes contentious on Friday in Park City.
The actress repeatedly bat down accusations that she was the cause of the accident or had otherwise been untruthful in her deposition or on the stand.
The latter allegation prompted a series of objections which eventually led to Third District Court Judge Kent Holmberg calling for a recess after Paltrow's side, exasperated, called for a bench meeting.
Out of the presence of jurors, during the recess called to dispute that line of questioning, Van Orman demanded a chance to bring up those alleged instances of impeachment evidence – specifically regarding Paltrow's alleged clumsiness and being "accident prone." At one point, the plaintiff's attorney said Paltrow had often lied under oath.
Almost as quickly, however, Van Orman restated her complaint and apologized. Paltrow quietly accepted the apology.
More Law&Crime coverage: 'I ask for your forgiveness': Gwyneth Paltrow's attorney calls himself an 'a–' and apologizes to plaintiff's daughter in court
Sanderson claims that Paltrow's negligence on the beginner slopes at Deer Valley Resort ski left him with such severe brain injuries that his personality and demeanor changed after the accident. He plans to ask jurors for some $3 million in damages. During her testimony on Friday afternoon, Paltrow repeatedly stressed that she believed Sanderson caused the accident by skiing directly into her back. She is asking for $1 and attorneys' fees.
Watch some of the day's back-and-forth below:
Have a tip we should know? [email protected]