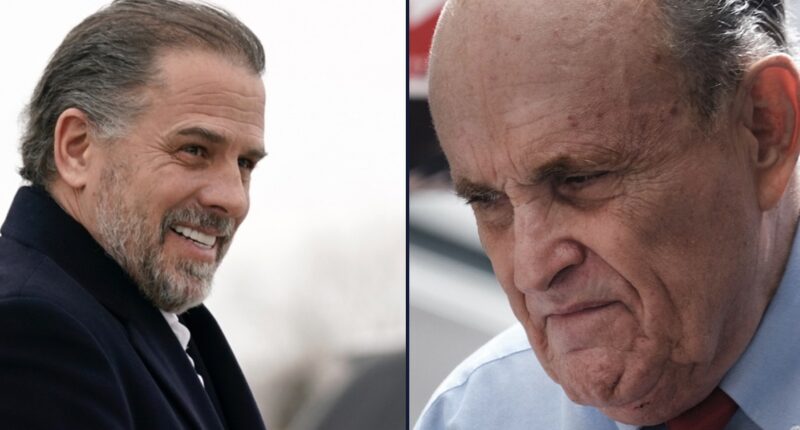 President Joe Biden's son Hunter Biden has filed a lawsuit against Rudy Giuliani and Robert Costello, the lawyer currently suing Giuliani for unpaid legal bills, for allegedly "hacking into" and "generally obsessing" over Biden's "alleged 'laptop' computer" over the last few years.
"Plaintiff has demanded Defendants Giuliani and Costello cease their unlawful activities with respect to Plaintiff's data and return any data in their possession belonging to Plaintiff, but they have refused to do so," said the lawsuit filed in the U.S. District Court for the Central District of California. "Defendants' statements suggest that their unlawful hacking activities are ongoing today and that, unless stopped, will continue into the future, thereby necessitating this action."
The Hunter Biden suit under the Computer Fraud and Abuse Act (CFAA) comes two weeks after he brought a similar suit against Garrett Ziegler, a former policy analyst in the Trump White House, for allegedly "hacking into" an "encrypted iPhone backup" as part of a years-long "sustained, unhinged and obsessed campaign against Plaintiff and the entire Biden family" to expose the contents of the "hard drive of the claimed 'Biden laptop.""
Biden, claiming that Giuliani and Costello "themselves admit that their purported possession of a 'laptop' is in fact not a 'laptop' at all," asserted that there's no telling how much his personal data has been tampered with/manipulated.
"It is, according to their own public statements, an 'external drive' that Defendants were told contained hundreds of gigabytes of Plaintiff's personal data. At least some of the data that Defendants obtained, copied, and proceeded to hack into and tamper with belongs to Plaintiff," the filing said. "But Plaintiff's data was manipulated, altered and damaged before it was copied and sent to Defendants; and Defendants' illegal hacking and tampering has involved further alterations and damage to the data to a degree that is presently unknown to Plaintiff."
As in the Ziegler case, Biden not only alleges violation of the CFAA but also alleges violations of California Business & Professions Code prohibiting unfair competition through "any unlawful, unfair or fraudulent business act or practice and unfair, deceptive, untrue or misleading advertising."
The latest lawsuit also comes one week after Hunter Biden sued the IRS over statements made by whistleblowers in the media.
Months earlier, Hunter Biden countersued John Paul Mac Isaac, a Delaware laptop repairman, claiming that the "knowing and intentional distribution of Mr. Biden's personal and sensitive data […] to try and expose Mr. Biden's data to those that he knew or should have known would intend to create embarrassment and harm for Mr. Biden" amounted to an invasion of his privacy.
Biden's civil litigation spree and apparent bid to restore his privacy is taking place as he faces a federal gun indictment and an ongoing special counsel probe in that case and "any other matters that arose or may arise."
Giuliani, for his part, faces a RICO indictment in Georgia for trying to overturn the 2020 election. He also faces civil lawsuits on multiple fronts — whether in cases by Smartmatic, by Georgia election workers Ruby Freeman and Wandrea "Shaye" Moss, by a woman who worked for him alleging sexual abuse, and even a case brought by his former lawyer Robert Costello.
Giuliani said in a statement a week ago that he felt "personally hurt" by the Costello lawsuit.
"It's a real shame when lawyers do things like this, and all I will say is that their bill is way in excess to anything approaching legitimate fees," Giuliani said.
Now Giuliani and Costello will have to contend with Hunter Biden's lawsuit and the legal costs associated with that.
Hunter Biden seeks a jury trial, punitive damages, and "disgorgement of all money obtained by Defendants as a result of their unlawful and otherwise wrongful conduct." The suit also names Giuliani's companies and 1-10 Does as defendants.
Read the lawsuit here.
Have a tip we should know? [email protected]