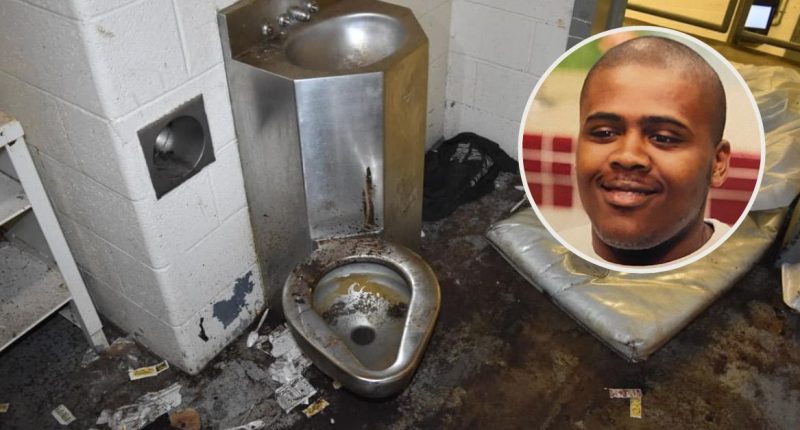 An inmate whose family says was "eaten alive by bedbugs" in a jail cell in the psych wing of an Atlanta lockup died of severe neglect, and his death was deemed a homicide, according to an independent autopsy conducted by a pathologist hired by the family's lawyers.
Lashawn Thompson was found on the floor unresponsive and slumped over the toilet in a cell in the psychiatric ward of the Fulton County Jail on Sept. 13, the independent autopsy said, citing the agency's incident report. He was covered with feces and "blood-sucking ectoparasites" — body lice. He had an "innumerable number of insects" on his head hair, face, nose, mouth, chest, pubic area, arms, and legs, the independent autopsy report said.
Thompson ended up at the jail after police from Georgia Tech found him sleeping in a park outside a childcare center in Midtown in June last year, the Atlanta Journal-Constitution reported. When police ran his name, they discovered an arrest warrant on a car theft charge from 2017. Thompson was also charged with simple battery for allegedly spitting on one of the officers who arrested him.
He lost 32 pounds less than 90 days after his arrest. When he entered the jail on June 12, 2022, he weighed 180 pounds. He weighed 148 pounds at his autopsy on Sept. 14, 2022. He was dehydrated, malnourished, and hadn't been medicated for his schizophrenia, leading to "a fatal cardiac arrhythmia," the document said.
"Mr. Thompson was neglected to death," said the independent autopsy report written by Dr. Roger A. Mitchell, Jr., a board-certified forensic pathologist and chair of forensic pathology at Howard University in Washington. "Had Mr. Thompson received adequate care during his incarceration at the Fulton County Jail, then he would not have died at the time that he did.
"The inactions of Mr. Thompson's caregivers are directly related to his death," the report opinion continues. "Therefore, the cause of death should be listed as Complications due to Severe Neglect, with the contributing cause stated as Untreated Decompensated Schizophrenia. Lastly, the manner of death designation of Homicide most accurately describes the circumstances around the death of Lashawn Thompson."
Thompson had schizophrenia, which required medical treatment and overall care to support activities of daily living, the autopsy report said.
"He did not receive the necessary medical care, nor did he receive the adequate food, water, or shelter necessary to sustain his life," the report said. "Because care was withheld from Mr. Lashawn Thompson, his condition deteriorated (decompensated). When he was found to be suffering from his illness, acute and urgent care was not provided to him. It is because of this severe neglect that Mr. Lashawn Thompson died. Therefore, the death of Lashawn Thompson is best classified as a Homicide."
Thompson's younger brother Brad McCrae said at a news conference on Monday the autopsy — paid for by former San Francisco 49ers quarterback Colin Kaepernick — helped prove what the family already knew.
"It's enough that the bed bug and lice sat there and ate my brother to death, but neglect hurts me the most," McCrae said before breaking into tears. "I have another brother, and seeing these
images and going through this as a family sent him into a mental breakdown."
The independent autopsy report was released at a news conference where civil rights attorney Benjamin Crump called Thompson's in-custody death one of the most deplorable in U.S. history.
"It is probably the worst in history that anybody contemporarily can tell you about," he said. "Lashawn Thompson did not deserve to die like this. Brittany Griner got better treatment in a Russian prison than Lashawn Thompson got in Fulton County Jail.
"The Fulton County Jail was a torture chamber."
Representatives for Fulton County Sheriff Patrick Labat did not immediately respond to Law&Crime's request for comment, but CNN reported he has not had a chance to review the independent autopsy report thoroughly.
"However, even before this report was issued, it was painfully clear there were a number of failures that led to Mr. Thompson's tragic death," he said in a statement to CNN. "I have already held the executive staff responsible for jail operations accountable by asking for and receiving the resignations of the Chief Jailer, Assistant Chief Jailer of Housing and Assistant Chief Jailer, Criminal Investigative Division. Repercussions for anyone found to be negligent in Mr. Thompson's care could come once the full investigation is turned over to the (Georgia Bureau of Investigation) for review.
"I remain committed to making sure the Thompson family receives the answers they need and deserve about the unconscionable circumstances surrounding Mr. Thompson's death."
Last month, the sheriff said officials spent $500,000 to clean and sanitize the jail, were transferring 650 inmates to other facilities to relieve overcrowding, and officials were seeking a new health vendor for the jail, which has been the subject of lawsuits and a federal consent decree regarding the conditions of inmates in custody.
An original autopsy exam on Sept. 14, 2022, listed Thompson's manner and cause of death as undetermined, with significant conditions such as schizoaffective disorder, bipolar and acute exacerbation.
The independent autopsy report said Thompson had a known history of "decompensated psychosis" dating to 2016 and had recently been incarcerated at the Fulton County Jail between December 2018 and October 2020. He received regular care, including mental health evaluations, ectoparasite/lice treatment, laboratory workups, and physical examinations.
"It is important to note that although Mr. Thompson initially refused medical attention, by mid to late May 2019, he consented to undergo evaluations and ultimately received treatment for both his mental health and body lice," the independent autopsy said.
The independent autopsy said that Thompson received regular care and was alert and compliant but noted a significant gap in reporting of his medical records for 43 days between July 27, 2022, and Sept. 8, 2022.
"This represents 43 days where there was minimal documentation found within the records that show care being delivered," the report said. "The medication administration log showed no medication was administered from Aug. 11, 2022, to Sept. 13, 2022."
On Sept. 8, 2022, the mental health provider documented that Thompson was observed lying in the fetal position on the floor and did not come to the door for the assessment but just lifted his head in acknowledgment.
"His room was unkept and malodorous," the report said. "The medical record notes that the sheriff deputy reported that Mr. Thompson appeared to be losing a significant amount of weight. The medical chart also revealed that he was not receiving his prescribed medications. As a result, he would be placed on 'psych observation.'"
On Sept. 10, 2022, the mental health provider documented he was "continuing to decompensate."
According to the medical records, the sheriff's deputy was informed of the housing transfer to the mental health clinic for Thompson for stabilization, but no transfer had occurred by then.
"On Sept. 12, 2022, Mr. Thompson was seen by the mental health provider due to severe deterioration and inability to care for himself. At this time, Mr. Thompson was still awaiting transfer to the psych observation unit."
"The death of Mr. Lashawn Thompson resulted from severe neglect evidenced by untreated schizophrenia, poor living conditions, poor grooming, extensive and severe body insect infestation, dehydration, and rapid weight loss," the report stated. "Mr. Thompson was completely reliant on his caregivers to provide both day-to-day care and the acute life-saving care needed to save him from untreated decompensated schizophrenia."
According to the timeline and medical records, Thompson received his last dose of medications 32 days before his death.
Have a tip we should know? [email protected]