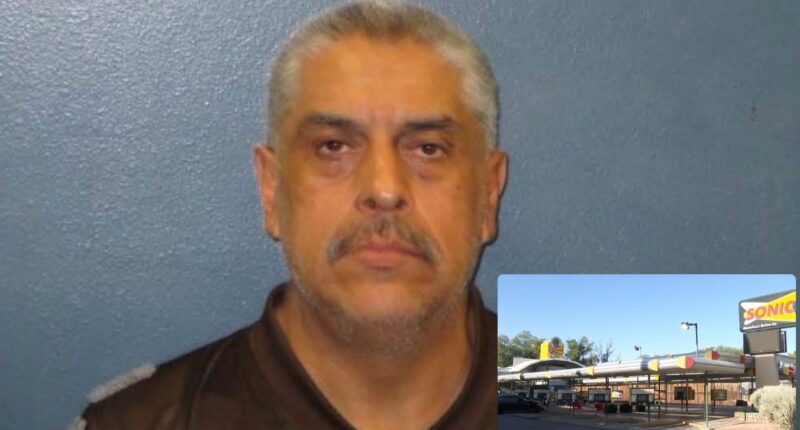 A 54-year-old cook at a Sonic Drive-in in New Mexico was arrested last week after a customer allegedly bit into a hot dog ordered from the fast food restaurant and found herself with about $100 worth of unwanted cocaine in her mouth. Jeffery David Salazar was taken into custody on Thursday and charged with one count of felony possession of a controlled substance, authorities announced.
According to a press release from the City of Española Police Department, the female customer on Tuesday, May 30 ordered a "Coney," a hot dog topped with chili and melted cheese, from a Sonic restaurant located in the 800 block of South Riverside Drive, about 100 miles northeast of Albuquerque. Police say the customer then found a bag of "illegal narcotics" in her food and contacted authorities.
A "field test" conducted on the bag came back positive for about one gram of cocaine, which police say was "inadvertently placed by Mr. Salazar during the time he was preparing food while employed at this location." Authorities said the arrest addressed a "significant potential threat" to the community.
Court documents obtained by Albuquerque ABC affiliate KOAT-TV provided additional information regarding Salazar's arrest.
According to a probable cause affidavit, first responders arrived at the scene and located the adult female customer who claimed to have found illegal narcotics in her hot dog. She reportedly told the officers that when she took a bite of the hot dog, she tasted a foreign object in the food. When she spit it out, she reportedly saw that it was a small plastic baggie containing a white powdery substance.
It was not immediately clear whether the customer ingested any of the substance, the report states.
Investigators were able to obtain surveillance footage from inside the restaurant that shed additional light on what happened.
The footage from inside the restaurant kitchen allegedly showed Salazar making some kind of "transaction" with another Sonic employee, police reportedly wrote. Salazar then appears to go back to his job of preparing food.
However, soon after the alleged "transaction," police reportedly said that Salazar stopped what he was doing and began "frantically searching the area as if he had lost something." Per KOAT, police said that Salazar's behavior "indicated that he may have lost the small baggie that was found in the customer's hot dog."
In a subsequent interview with investigators, police say that Salazar admitted that the small baggie contained cocaine and belonged to him, allegedly claiming that he purchased the narcotics from someone in the restaurant parking lot, according to a report from Fort Worth NBC affiliate KXAS-TV.
A supervisor at the Sonic location reportedly refused to comment on the incident when reached by Albuquerque NBC affiliate KOB-TV.
"I think that's pretty scary," a customer at the location told KOB a few days after the drugs were allegedly found in the food. "We come here to get food for our families, and if a child found that it could have been pretty bad or deadly."
Have a tip we should know? [email protected]