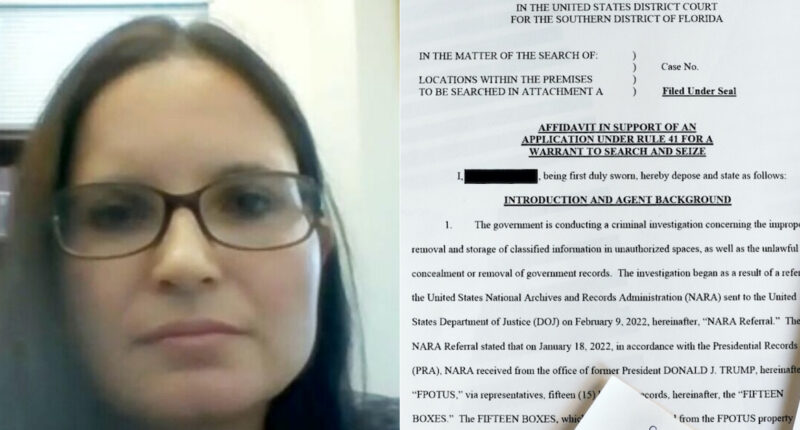 The Donald Trump-appointed judge who named a special master and wrongly blocked the Department of Justice from investigating the former president has been assigned to preside over the historic Mar-a-Lago classified documents criminal case. Reports from ABC and the New York Times, citing people familiar with matter and the summons sent to Trump's legal team, were first to the story, but the federal court docket confirms it.
U.S. District Judge Aileen Cannon is the jurist that a panel of Republican-appointed judges on U.S. Court of Appeals for the 11th Circuit found "improperly" ruled in Trump's favor by deferring to his attorney-client/executive privilege claims and his status as a former president — appointing a special master and blocking the feds from continuing their probe after Mar-a-Lago had already been searched.
"The law is clear. We cannot write a rule that allows any subject of a search warrant to block government investigations after the execution of the warrant. Nor can we write a rule that allows only former presidents to do so. Either approach would be a radical reordering of our caselaw limiting the federal courts' involvement in criminal investigations," the 11th Circuit ruled in December 2022, tossing the civil case. "And both would violate bedrock separation-of-powers limitations. Accordingly, we agree with the government that the district court improperly exercised equitable jurisdiction, and that dismissal of the entire proceeding is required."
Judge Cannon and U.S. Magistrate Judge Bruce Reinhart's names reportedly appeared on the summons as the judges handling the criminal case. That may simply be because of their involvement in the related (but dismissed) civil matter. Irrespective of intentional or random assignment, though, it's possible — as legal observers have noted — that Special Counsel Jack Smith could gun for Cannon's "reassignment" if it comes to that.
2/Altho a judge's behavior in court generally doesn't form the basis for recusal, the 11th Circuit has ordered "reassignment" where a judge leans so heavily for a defendant they call their objectivity in the eyes of the public into question. This is from US v. Martin pic.twitter.com/7jGLqJpaL9

— Joyce Alene (@JoyceWhiteVance) June 9, 2023
4/It is not clear Cannon is permanently assigned to the case. If she is, it's extremely unlikely it stays with her and as a last resort, DOJ will challenge her participation and win.

— Joyce Alene (@JoyceWhiteVance) June 9, 2023
An alternative argument could be made that if the special counsel ultimately prevailed in the prosecution with Cannon presiding, such a win would have an even greater impact in a case with massive political implications, as the former president would not be able to complain about judicial bias leading to his demise.
Judge Cannon previously served as an Assistant U.S. Attorney in the Criminal Division of the Appellate Section of the Southern District of Florida. Trump nominated Cannon to the lifetime federal judgeship in April 2020.
Trump is set to be arraigned in Miami at 3 p.m. on Tuesday.
Following Special Counsel Smith's Friday motion "in the public interest," the docket shows, Chief U.S. Magistrate Judge Edwin G. Torres ordered Trump's indictment unsealed.
Have a tip we should know? [email protected]