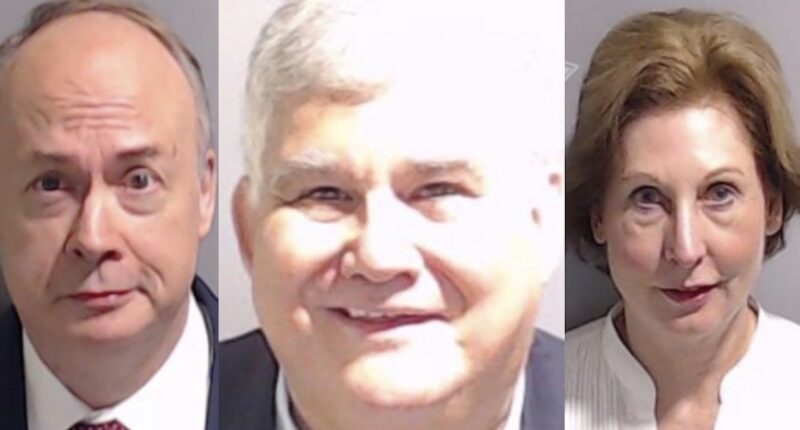 The Fulton County, Georgia, judge presiding over the sprawling racketeering (RICO) case brought against former President Donald Trump and more than a dozen others briefly dispensed with requests for an evidentiary hearing after the law firm of one of the prosecutors mailed out advertisements to at least four defendants.
Judge Scott McAfee's denial of the joint motion from former DOJ lawyer Jeffrey Clark, former Georgia Republican Party chairman David Shafer, "Kraken" lawyer Sidney Powell, and former Coffee County GOP chair Cathy Latham was not a close call, especially when you consider that he only spent two pages on the order and felt "comfortable inferring" without an evidentiary hearing that special prosecutor Nathan Wade lacked knowledge of the mailer which was sent out by his law partner Christopher Campbell from the firm Wade & Campbell.
When defendant Shafer filed the motion for the hearing, he alleged that the mailer amounted to "improper contact" from the prosecution to the defense. He shared exhibits of the envelope, which had the word "ADVERTISEMENT" on the front, and the enclosed letter, which began with "Re: IMPERSONATING A PUBLIC OFFICER," one of the charges Shafer and Latham face.
"Attorneys Wade & Campbell dedicate their criminal practice to protecting the rights of any and every individual charged with a Misdemeanor, Felony, DUI or Traffic Offense!!" the generic advertisement/solicitation began. "We will walk clients through the process and carefully evaluate all possibilities while keeping your family, career, and reputation under consideration."
The letter was signed by Cristopher Campbell, not prosecutor Nathan Wade.
Judge McAfee said it was clear enough to him without investigating the issue any further that this mailer "on its face […] appears to be the type of mass-generated material to which all citizens with a mailbox are regularly subjected." In other words, it's an exceedingly common practice for law firms to send out mailers like this one.
"Nothing indicates that Special Prosecutor Wade knowingly sent the mailer or specifically targeted the Defendants," the judge said.
"While presumably embarrassing on the part of Special Prosecutor Wade and his firm, this case should not be sidetracked by matters which facially lack merit," McAfee continued, before telling the defendants exactly where his focus is: "Going forward, the substantive and unprecedented legal arguments generated by this case will require many hearings. But this is not one of them."
The judge, pointing to Rule 7.3. of the Georgia Rules of Professional Conduct, wrote that "[o]ther concerns regarding the content and layout" of the advertisement in question "are better left to the distraction of the State Bar, as such transgressions would not affect these proceedings."
Have a tip we should know? [email protected]