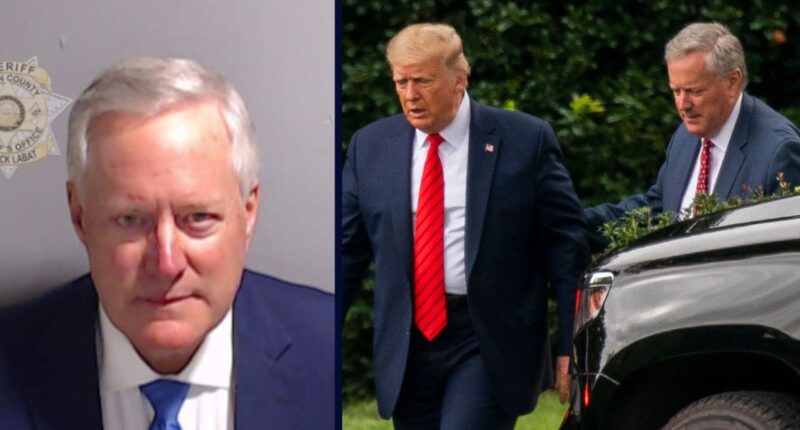 The one-time Donald Trump chief of staff named in the bombshell racketeering indictment in Georgia over the 2020 presidential election will not have his day in federal court.
In a 49-page ruling issued Friday, U.S. District Judge Steve CarMichael Jones denied Mark Meadows' request to have the case moved to federal court.
Meadows, who served as a top Trump ally, is alleged to have played a role in an alleged criminal enterprise that "refused to accept that Trump lost, and […] knowingly and willfully joined a conspiracy to unlawfully change the outcome of the election in favor of Trump," according to Fulton County District Attorney Fani Willis. Her indictment says that he, along with Trump, "unlawfully solicited, requested, and importuned Georgia Secretary of State Brad Raffensperger, a public officer, to [break the law] by unlawfully altering, unlawfully adjusting, and otherwise unlawfully influencing the certified returns for presidential electors for the November 3, 2020, presidential election in Georgia[.]"
Meadows has been charged with one count of solicitation of violation of oath by a public officer and one count of violating the Peach State's RICO (Racketeering Influenced and Corrupt Organizations) laws.
Trump himself has referred to his Jan. 2, 2021, call with Raffensperger as "an absolutely PERFECT phone call." During the call, the then-president demanded that Raffensperger "find 11,780 votes" — enough to overturn President Joe Biden's win in the Peach State — or potentially face criminal consequences. Raffensperger refused.
Meadows, for his part, says that his actions outlined in the indictment were taken "during his tenure and as part of his service as Chief of Staff." Lawyers for Meadows argued that federal law "provides for prompt removal of a 'criminal prosecution . . . commenced in a State court . . . against or directed to' a federal official, 'in an official or individual capacity, for or relating to any act
under color of [his] office.""
Meadows has also argued for dismissal, insisting that none of his alleged conduct "is criminal per se," and, in any event, said actions occurred "under color of his role as Chief of Staff to the President of the United States."
On Sept. 7, lawyers for Trump filed a notice in Georgia state court that he "may seek removal of his prosecution to federal court."
Law&Crime's Matt Naham contributed to this report.
Have a tip we should know? [email protected]