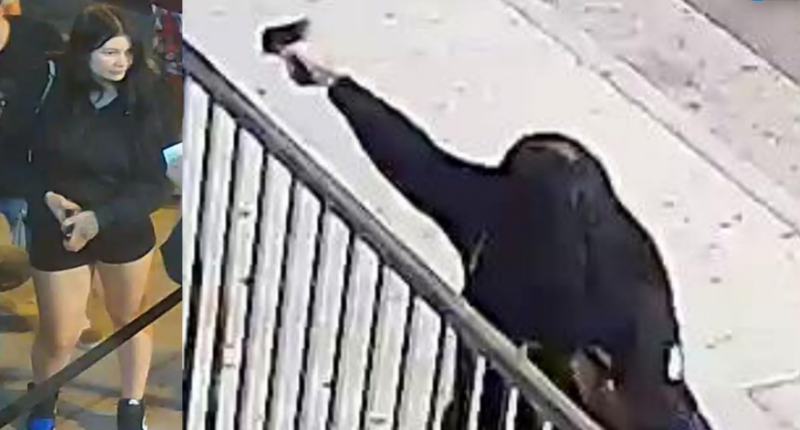 DENVER — Police in Denver are looking for a woman in connection with a mass shooting that injured five people over the weekend in the city's Lower Downtown District. Police said the woman was denied entry into a bar before the shooting.
Police released still images from a surveillance camera on Monday that shows a woman pointing a gun in front of Dierks Bentley's Whiskey Row, located at 1946 Market Street. Police said five people were standing outside the bar when they were shot by the unidentified woman at approximately 11:14 p.m. Saturday.
After the shooting, officers, some of whom were working in an off-duty capacity in the area, quickly responded and located a total of five adult victims. Paramedics rushed the victims to the hospital with what police said were non-life-threatening injuries.
Police said that the female suspect was denied entry to the bar and began walking away but quickly returned to have another conversation with security staff. As the suspect walked away a second time, she produced a firearm and discharged it in the direction of the club multiple times, injuring the five victims whom police believe were not the intended targets.
Lissa Druss, a spokesperson for Dierks Bentley's Whiskey Row, said in a statement they have been working with the city to make "positive improvements" to the area.
"We are disheartened by the events of last evening. Our thoughts and prayers go out to those that were injured. We are grateful for the swift actions of DPD, but we are very concerned about the activity in LoDo and have been engaged with city officials and neighborhood leaders on how to make positive improvements in the area. The safety of our staff and our patrons is paramount to our company," Druss wrote.
No arrests have been made at this time and anyone who was present during this incident or has any information that can help identify or locate the suspect is encouraged to contact Metro Denver Crime Stoppers at 720-913-7867.
---
The Follow Up
What do you want Denver7 to follow up on? Is there a story, topic or issue you want us to revisit? Let us know with the contact form below.