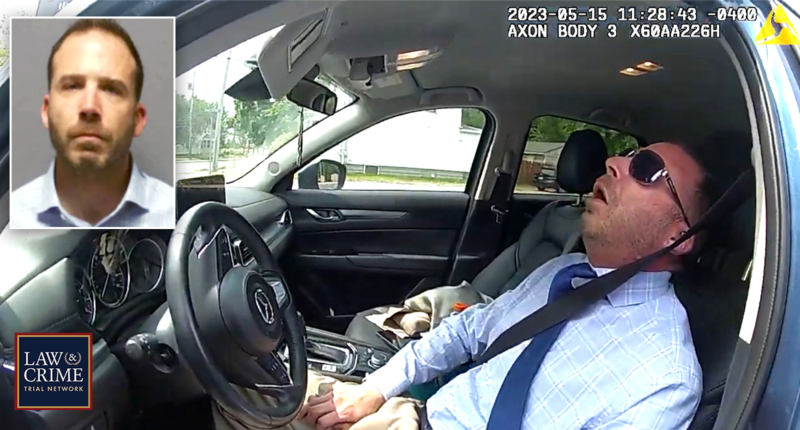 An embattled former city councilman in Rhode Island who was arrested earlier this month after an officer found him asleep in his car with a crack pipe and a lighter in his hand is behind bars again, this time for allegedly sexually assaulting and molesting a child. Former Cranston City Councilman Matthew R. Reilly, a Republican, was taken into custody without incident on Thursday and charged with one count each of first-degree child molestation, second-degree child molestation, and enticement of a person under the age of 16, court records reviewed by Law&Crime show.
According to a press release from the Cranston Police Department, officers with CPD and the North Kingstown Police Department on June 8 responded to Reilly's home in the 20 block of Delwood Street where they executed an arrest warrant on the onetime local politician.
Police say the investigation into Reilly's alleged unlawful actions towards the juvenile victim began just about a week before he was arrested in connection with the crack-smoking incident.
Police said that the legal guardian of a 12-year-old girl on May 7 filed a complaint at police headquarters concerning Reilly's conduct with the child. Authorities noted that Reilly is not related to the alleged victim. Detectives with the CPD Special Victim's Unit and investigators with the Office of the Rhode Island Attorney General subsequently opened an investigation into the allegations.
Providence, Rhode Island CBS affiliate WPRI-TV reported that the alleged unlawful conduct took place on May 3, but police have repeatedly declined to provide any additional information regarding the underlying conduct from which the charges stem.
Reilly appeared in Third District Magistrate Court for his arraignment before Magistrate Judge Joseph Ippolito, who ordered him to remain in detention without bond pending a competency hearing.
In an email to Law&Crime, Reilly's defense attorney, Michael J. Lepizzera, Jr. confirmed that his client pleaded not guilty at his initial court appearance. "The charges are obviously serious in nature. With these types of charges, I can see the general public and even close friends instantaneously turning their back on Mr. Reilly and drawing knee-jerk conclusions," he wrote. "I simply ask everyone to refrain from public ridicule and gossip and allow the legal process to unfold in the ordinary course. While we may not have a perfect system of justice in this country (as nothing is perfect), my 30 years as a lawyer allows me to state that we have as near perfect judicial system as could exist and we should trust in the system to be the final adjudicator of the facts, the law, and any legal outcome."
Reilly's previous drug arrest was captured by an officer's body camera and showed the former councilman sitting in the driver's seat of his car with his mouth open and head tilted back as police approach the vehicle.
"I can't really let you go. You were literally choking in your sleep. Somebody flagged me down," the officer tells Reilly.
Reilly responded, "I have sleep apnea, I'm sorry."
But the officer told Reilly he saw the crack pipe and lighter in his hand. Reilly admitted he'd struggled with addiction in the past and recently relapsed.
The body camera video runs for nearly an hour as EMTs check out Reilly and other officers arrive to test the substances found in the vehicle. The white, rock-like substance tested positive for cocaine and fentanyl.
An officer also found a Chore Boy scrub pad in the glove compartment. Chore Boy contains copper and metal and is commonly used to make crack pipes.
A sergeant told Reilly he needed to get into a drug treatment program.
Reilly said he had just started using drugs again and had bought the drugs he was using the day before.
The video was recorded on May 15.
"You're not the Matt Reilly we know. Your health and well-being is more important than any political career," the sergeant told Reilly.
Reilly was also concerned about the media finding out about his arrest. The officers told him arrest records are public.
Reilly was taken to jail, processed and released. He resigned from his seat several days later.
Angenette Levy contributed to this report.
Have a tip we should know? [email protected]