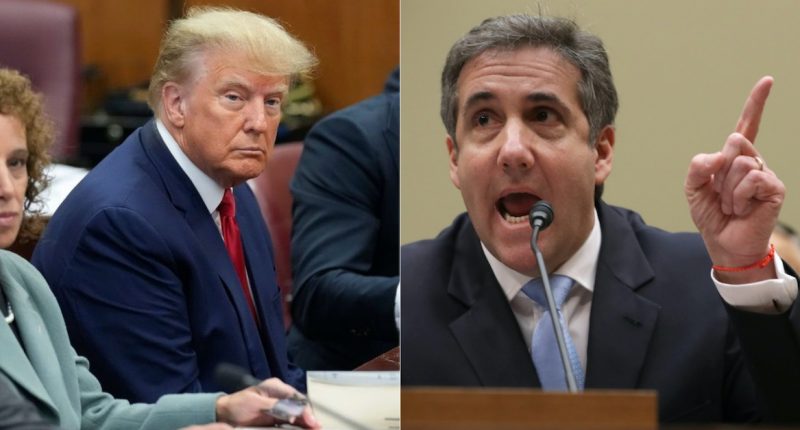 Known for attacking his adversaries in litigation, campaign rallies, and social media broadsides, former President Donald Trump offered a surprising argument in federal court: The other guy is being too "caustic."
Fighting for the survival of his $500 million lawsuit, Trump's attorney Alejandro Brito made an uncharacteristic plea for ex-fixer Michael Cohen to lower the temperature in their legal sludge-fest.
In a 30-page brief filed on Monday, Brito complained that Cohen's legal team "unnecessarily injects invectives designed to exacerbate this already caustic matter" by stating that the former president's "frivolous," "scattershot," and "ham-fisted" lawsuit exposes his "tattered old playbook." Such barbs, he says, are "designed to taint this court's view" of Trump and his case.
"Rather than belaboring the impropriety of the statements, accusations and arguments made in Cohen's motion to dismiss, [Trump] will elect to focus on the legal arguments raised in the motion which, as reflected in greater detail below, should be summarily denied," Brito wrote.
A little more than a week after his felony indictment in New York, Trump filed a massive lawsuit appearing to threaten Cohen, a crucial witness to the hush-money scheme at the heart of the case, with economic annihilation. Trump claimed that Cohen caused him "vast reputational harm" by breaching his employment and confidentiality agreements by revealing the former president's "confidences" and spreading "falsehoods" about him "with malicious intent and to wholly self-serving ends."
Trump calculated the damages from Cohen's yearslong trashing of him on cable TV, books, and podcasts at a cool half-billion dollars.
Cohen ridiculed Trump's newfound appeal to civility in a statement.
"The irony should not be lost here that only after several days post-the Manhattan DA's indictment of Donald does he elect to file this baseless lawsuit against me," Cohen told Law&Crime. "This is an old and ill-advised strategy from the Trump playbook that he has used for many decades. With all the legal troubles at Donald's doorstep, the last place he wants to find himself is before my counsel at a deposition providing testimony under oath."
As Cohen's lawyers E. Danya Perry and Benjamin H. Brodsky noted, Trump's longtime legal strategy — reputed to take inspiration from the take-no-prisoners style of his mentor, Roy Cohn —  is hardly known for sober understatement.
"Former President Donald J. Trump has described his favorite Bible verse as 'an eye for an eye,' which fairly captures his long history of exacting brutal retaliation — both broadly against perceived political, professional, and personal enemies, and specifically against Defendant Michael D. Cohen," they wrote in a motion to dismiss. "Some of this retaliatory conduct has been petty and mean-spirited; some of it is patently unlawful and includes witness tampering, obstruction, and civil rights violations. Mr. Trump often abuses the court system to this end. Indeed, Mr. Trump recently was sanctioned by another court in this District for abusing the judicial process to punish his perceived enemies."
Trump filed his lawsuit against Cohen in the Southern District of Florida, the same jurisdiction where the former president sued Hillary Clinton and a host of other perceived political enemies. A federal judge dismissed those lawsuits, then sanctioned Trump and his attorney Alina Habba to the tune of nearly $1 million over their "frivolous" and "vexatious" litigation.
The lacerating sanctions order by U.S. District Judge Donald M. Middlebrooks roasted Trump as a "prolific and sophisticated litigant who is repeatedly using the courts to seek revenge on political adversaries."
Cohen's counsel made sure to cite Trump's legal defeat in that case in his motion to dismiss. The attorneys argue that Trump's latest lawsuit should fail on various grounds, including the statute of limitations and failure to state a claim.
Trump claims that he made Cohen sign a confidentiality agreement, which Cohen allegedly violated in his repeated criticism of the former president. Cohen questions whether the "purported" agreement exists — or if it did, whether it's enforceable.
U.S. District Judge Darrin P. Gayles, a Barack Obama appointee, has not yet decided on Cohen's motion to boot the case.
Have a tip we should know? [email protected]