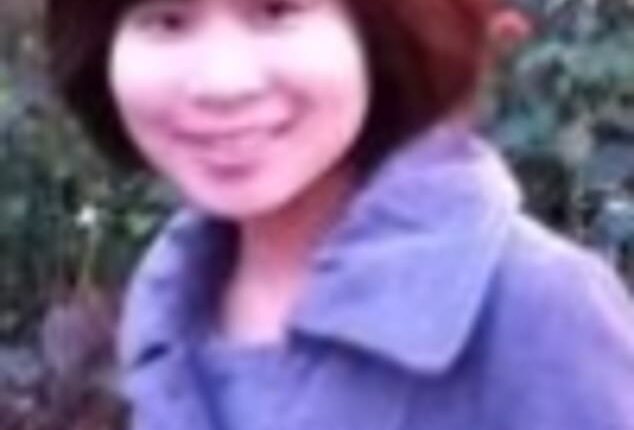 A mother wrote a note saying 'I am a bad person' before she stabbed her five-year-old son to death and then took her own life.
The bodies of Yi Chen and her son Xingduan Yuan were discovered by her husband at their London home after he returned from taking their other son to school.
In the run up to the murder-suicide Chen, 37, had been seeking psychiatric support for depression, anxiety, suicidal thoughts, migraines and insomnia from NHS and private practitioners. 
On June 21 last year, husband Shuai Yuan drove back to their £800,000 Barnet home via the pharmacist to pick up medication for his wife – he had been under the impression her condition had been improving.
Upon his return he found their bedroom door was locked and heard no response from his wife or son, panicked he called the police and forced his way in.
Yi Chen, 37, left a suicide note saying that she had taken her son Xingduan with her and said 'I am a bad person'
Husband Shuai Yuan discovered the bodies at their £800,000 Barnet home after dropping off their other son at school
On June 14, less than week before, she had a zoom meeting with a psychiatrist attended by her husband but was not seen in person by him.
Her husband Yuan updated the psychiatrist and they had agreed a management plan.
Mr Yuan told North London Coroner's Court via video link he was under the impression his wife's condition was improving but in hindsight realised she had been hiding what was happening.
He said previously she had been open with GPs, psychologists and a private psychiatrist about her suicidal thoughts.
He added: 'From what I saw, I believed she was getting better but now I realise she was getting worse and chose to hide it from me.'
Senior coroner Andrew Walker recounted father's version of events that day.
Forensic experts were called to the house while police cordoned off a section of the road and carried out patrols
He said: 'You woke up to an alarm on your phone at 7.20am and when you woke up you had a message from your wife at 7.50am saying that she did not want Xuan to go to school.
'You went to take your other son and then came back at 11.20 having dropped him off. Then you realised your son hadn't taken his tie to school.
'At 11.50 you took the tie to the reception area at school.
'Then you went to the pharmacist where you picked up medication for your wife. Around 1300 hours you knocked on the door of the bedroom which you found locked.
'You broke the door using a hammer to gain entry and then you found your wife and Xing Duan Yuan on the bed. You then called emergency services.'
Mr Yuan corrected the statement and said he called the police before he broke into the door.
DS Martin Slatterly, from Hendon Serious Crime Unit, provided a statement read out by the coroner.
He said police received a 999 call to the home on Brookside South: 'The caller said that his wife had killed herself and her son in the room and their throats had been cut and they were cold to touch.
'Mr Yuan was understandably incredibly distressed.'
The coroner ruled Xingduan died by unlawful killing and Mrs Chen by suicide
Forensic officers at the scene in Brookside South, Barnet, north London, after a 37-year-old woman and five-year-old child were found fatally stabbed 
The officer explained the found a 'fist-sized hole' by the door used to unlock it from the outside.
A bloody knife and a note in Mandarin was discovered at the scene.
The note include a statement: 'I am not afraid of death, I want to end the physical and mental pain I am suffering, I have taken Xingduan with me. I am a bad person.'
The coroner ruled Xingduan died by unlawful killing and Mrs Chen by suicide.
He said: 'On the 21 June 2022 Yi Chen inflicted on her son and herself a fatal injuries using a knife.
'Xingduan was found on the cot bed having suffered a fatal injury to his neck bluntly caused by his mother who was suffering from a depressive illness.'
'Mrs Chen was suffering with depressive illness at the time of the incident and that mental illness would seemed to have grown worse in the period before her death.'
Both of the deceased were physically healthy at the time, and there were no drugs or alcohol involved.
When life is difficult, Samaritans are here – day or night, 365 days a year. You can call them for free on 116 123, email them at [email protected], or visit samaritans.org to find your nearest branch. 
Post source: The List