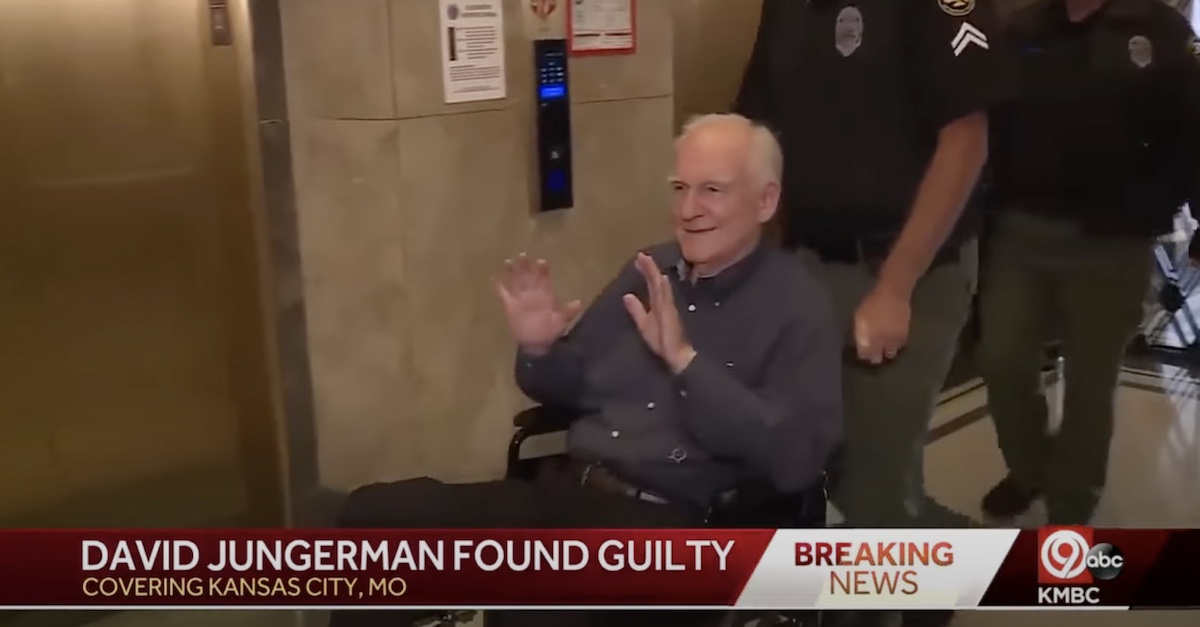 A Missouri judge has ruled that an 85-year-old man convicted in September of gunning down a lawyer in front of his home in 2017 is not mentally competent to participate in his own sentencing.
David Jungerman, 85, was convicted in September of murdering attorney Thomas Pickert in October 2017. Pickert was shot to death in front of his home while his wife, Dr. Emily Riegel, was inside; he had just returned from dropping the couple's two sons off at school.
According to prosecutors, Pickert had previously obtained a $5.75 million jury verdict against Jungerman, who had apparently beaten a homeless man trying to break into Jungerman's baby-furniture warehouse. The man reportedly had to have his leg amputated as a result of the assault.
The day before the slaying, Jungerman was served with property liens.
Investigators found an unspent bullet in Jungerman's white van — which was spotted at the Pickert shooting scene by a witness — that matched the type of bullet that killed Pickert. Police also uncovered a recording of Jungerman talking to an employee about killing Pickert.
At the time of the murder, Jungerman was believed to have been worth millions, according to local NPR affiliate KCUR.
The jury took just two hours to convict Jungerman of murder. Sentencing had originally been set for Nov. 18, but on that day, Jackson County Judge John Torrence ordered a competency evaluation for Jungerman, according to court filings, and had requested a briefing from both the state and defense about the findings.
Jungerman's lawyer, Jonathan Laurans, said that four mental health care professionals, under the supervision of the state's Department of Mental Health, confirmed that an "earlier opinion of incompetency" rendered by a defense witness during the trial "was indeed correct."
At trial, the defense expert testified that Jungerman's mental incompetence was "likely due to brain injury or illness" attributable to a stroke, brain tumor, or "acute neurological injury of some form."
"In other words, the State mental health professionals tasked with performing this evaluation concluded that the incompetent Jungerman lacks the capacity to understand the upcoming sentencing hearing, and is unable to assist his attorneys, which necessarily means he is unable to exercise his constitutional right to allocution in any meaningful way," Laurans wrote.
Laurans also argued that this is "not a situation where Jungerman was somehow competent at trial notwithstanding the affirmed and corroborated opinion" of the defense expert, but "only later in the ensuing few weeks lost his mind and faculties."
Prosecutors, meanwhile, had pushed for the sentencing hearing to go forward, arguing that they were only seeking the minimum sentence and not the maximum sentence under Missouri law.
"At the sentencing hearing, defendant is facing a mandatory sentence of life without parole for the offense of murder in the first degree," prosecutors said in a Feb. 10 filing. "Given Mr. Jungerman's age, the State hereby notifies the court and defense counsel of its intent to only seek the minimum required sentence of three years for the offense of armed criminal action and its request for that sentence to be concurrent to the sentence for murder in the first degree."
Laurans criticized the prosecutors' position.
"The State posits that because it believes the sentences to be imposed are a foregone conclusion, Defendant Jungerman's constitutional right to be present with all mental faculties at this core proceeding in this prosecution is irrelevant," Laurans argued, adding that when it comes to criminal cases, courts "are not allowed to move forward with proceedings that risk life or liberty without the presence of a competent defendant.
In an order issued Monday, Torrence all but admitted that deferring sentencing was not his preferred outcome but noted the lack of evidence presented by prosecutors.
"The State did not seek a second mental evaluation and presented no evidence at today's hearing," Torrence wrote. "Regrettably, the Court finds and concludes that Defendant is incompetent to proceed with sentencing and that he should be held in a suitable hospital facility for treatment pending a determination of his fitness to proceed."
Torrence ordered another evaluation of Jungerman in six months specifically to determine whether he is "mentally fit to proceed with sentencing," and, if not, whether there is a "substantial probability" that Jungerman will "attain the mental fitness to proceed with sentencing in the foreseeable future."
In his briefing documents, Laurans indicated that he will continue to pursue his efforts to overturn the verdict entirely and seek a new trial "if and when Jungerman regains competency."
Judge Torrence set a hearing for Oct. 12.
Have a tip we should know? [email protected]