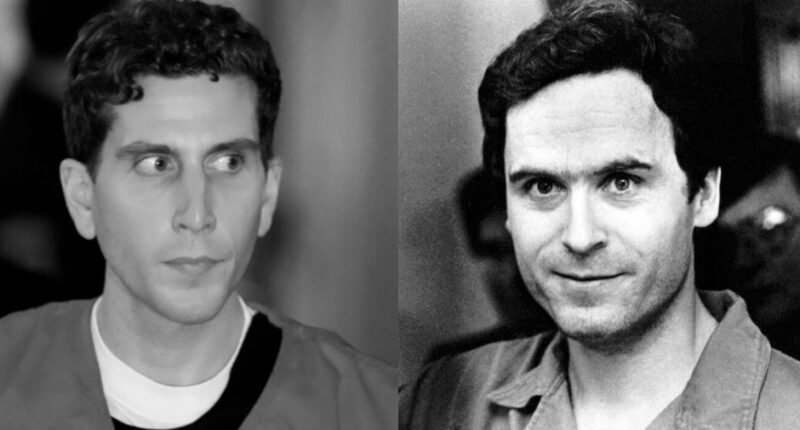 Survivors of notorious 1970s serial killer Ted Bundy note the similarities between his crimes — especially his 1978 attack at Florida State University's Chi Omega sorority house — and the killings of four University of Idaho students at an off-campus rental last November.
Washington State University criminal justice grad student Bryan Kohberger, 28, has been charged with the Idaho murders and awaits trial, scheduled for October, in Latah County.
CrimeOnline's Nancy Grace spoke with two of Bundy's survivors for her Fox Nation special, "Parallels of Evil: The Bundy and Idaho Killings."
"There have been a lot of mass murderers, but [Kohberger] seemed to almost pick a murder that mirrored one of Bundy's murders. Is that a coincidence? I don't know," says Karen Pryor, one of two students who survived Bundy's attacks at the sorority house.
Kohberger is accused of breaking into the Moscow, Idaho, rental house on November 13, 2022, and brutally stabbing students Kaylee Goncalves, Xana Kernodle, Madison Mogen, and Ethan Chapin. Two other roommates were in the house at the time but were not attacked. One of them saw the likely killer in the early hours of the morning.
Bundy had already killed many times over by the time he arrived in Tallahassee, Florida, on January 8, 1978. A week later, he broke into the Chi Omega house, where he bludgeoned to death Margaret Bowman and Lisa Levy and severely injured Kathy Kleiner and Pryor. Another of the women living at the house saw him as he fled. Less than an hour later, he broke into a duplex eight blocks away and attacked Cheryl Thomas, dislocating her shoulder and fracturing her jaw and skull.
"My neighbors heard when I was being attacked. They heard moaning, so they called, and they could hear through the wall, my phone ringing. I didn't answer," she told Grace. "Then they called again, and they heard running. So at that point, Ted Bundy was running out and getting out through the kitchen window. And they called 911 because it was just too weird of a sound of going next door."
When she heard about the Idaho murders, Thomas said, "I could relate."
Pryor agreed.  "He broke into [the house] as Bundy broke into the sorority house, and went kind of systematically from person to person to kill them," she said.
Bundy was arrested a month later in Florida and stood trial for the murders of Bowman, Levy, and 12-year-old Kimberly Dianne Leach, who was kidnapped and killed from Lake City after the sorority house killings. After confessing to 30 murders in seven states between 1974 and 1978, He was executed on January 24, 1989.
John Henry Browne, who served as Bundy's attorney for a time (he mostly conducted his own defense), tells Grace that the Florida State and University of Idaho murders both appear to stem from "rage."
"It's so random. And the manner of homicide was so brutal," Browne said. "I've done probably 50 murder cases in my career, maybe more. And these are the only two that have those similarities. Almost all of them involve weapons, guns mostly, or fistfights, things like that, or in self-defense."
"This is just downright brutal. It's rage. Whoever did this was full of rage."
Grace's special further looks at other similarities between the two crimes, including how a vehicle — Bundy's stolen Volkswagen Beetle and Kohberger's Hyundai Elantra — led to their arrests.
For the latest true crime and justice news, subscribe to the 'Crime Stories with Nancy Grace' podcast.
[Featured image: Bryan Kohberger/AP Photo/Matt Rourke, Pool and Ted Bundy/AP Photo]


Post source: Crime Online