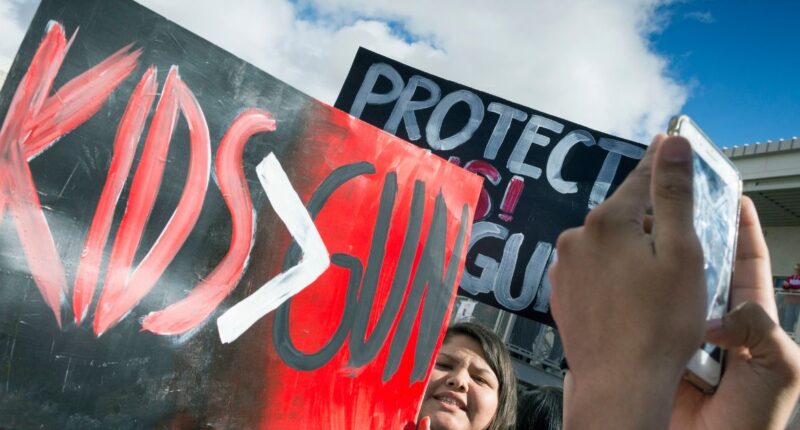 A conservative panel of a federal appeals judges ruled against yet another California gun law Wednesday, this time holding that California "cannot straightjacket the First Amendment" by allowing minors to possess firearms, then banning truthful advertisements about those firearms. The ruling comes just days after the same panel ruled against California's restrictive open-carry law.
Under California law, advertising firearm-related products "in a manner that is designed, intended, or reasonably appears to be attractive to minors" is prohibited. Last year, a lower court judge refused to issue a preliminary injunction against enforcement of the statute while a lawsuit brought by Junior Sports Magazine and Second Amendment advocates proceeded.
The three-judge panel of the U.S. Court of Appeals for the Ninth Circuit unanimously ruled that there is no evidence that the ban on advertisements would achieve its stated goal of reducing illegal gun use and violence among young people.
U.S. Circuit Judge Kenneth Lee, a Donald Trump appointee, penned the opinion for the panel, which ruled that under the First Amendment, states may only ban truthful and lawful advertising if such a ban survives strict scrutiny — meaning that the ban would have to be narrowly-tailored and necessary to achieve a substantial state interest. The two other judges on the panel, Trump appointee Lawrence VanDyke and George W. Bush appointee N. Randy Smith, found that the law at issue did not come close to meeting the standard.
Over 21 pages, Lee used many colorful analogies to underscore what he described as California's outright failure to introduce enough supportive evidence to show that the law was tied closely enough to youth safety to warrant intrusion on free speech.
"Simply put, California cannot lean on gossamers of speculation to weave an evidence-free narrative that its law curbing the First Amendment 'significantly' decreases unlawful gun use among minors," Lee wrote. "The First Amendment demands more than good intentions and wishful thinking to warrant the government's muzzling of speech."
Lee slammed the state's lawyers for failing to introduce any supportive evidence that a minor within the state has ever unlawfully bought a gun because of an advertisement.
The panel also flatly rejected California's argument that "common sense" connects the advertisement ban with safety, and said the state's reliance on "speculation" and "fact-free inferences" are insufficient to justify governmental infringement on speech.
Lee also accused the Golden State of "spin[ning] a web of speculation — not facts or evidence — to claim that its restriction on speech will significantly curb unlawful firearm use and gun violence among minors."
Additionally, Lee also noted that the law itself was far too broad. Under its language, for example, a company might be prevented from marketing a camouflage-colored gun for adults because it might appeal to minors, he said.
The judge raised another example of the statute's overbreadth:
And bizarrely, California's law would likely ban advertisements promoting safer guns for minors — for example, a hunting rifle designed for young hunters that has less recoil or that comes with a more secure trigger safety — if they are directed at minors and their parents.
On Sept. 7, the same panel of three judges overturned District Court Judge Kimberly J. Mueller's ruling which had denied plaintiffs a preliminary injunction of another California gun law. State law had prohibited residents of counties with over 200,o00 inhabitants from applying for an open carry license. Two residents sued in 2019 to challenge the laws, arguing that the restrictions unlawfully infringe on their Second Amendment rights.
The conservative appellate panel ruled in that case that Mueller, a Barack Obama appointee, abused her discretion by applying an incorrect legal standard in making her decision. VanDyke penned the opinion in in the licensing case and said Mueller should have assessed the underlying lawsuit's likelihood of success on the merits rather than considering the balancing of harms and the public interest.
VanDyke called Mueller's failure to consider the appropriate factors an abuse of discretion. The appellate judge provided something of an excuse for Mueller's error, writing, "District courts carry heavy case dockets, thus it is understandable why they may seek to resolve cases on what may appear a simpler basis."
However, VanDyke cautioned that a court must not "skip over" using the correct legal analysis when deciding whether to issue a preliminary injunction.
In what was likely a reference to the advertising ban, VanDyke noted that the licensing case was part of a "broader trend of legal challenges to California's gun laws."
The Ninth Circuit ruled that the Supreme Court's 2022 ruling in New York State Rifle & Pistol Association v. Bruen, which struck down New York's concealed-carry licensing regime, should have been a key consideration in evaluating California's law. The Supreme Court's ruling extended Second Amendment jurisprudence such that gun restrictions must have a "well-established and representative historical analogue" in order to pass constitutional muster.
Have a tip we should know? [email protected]