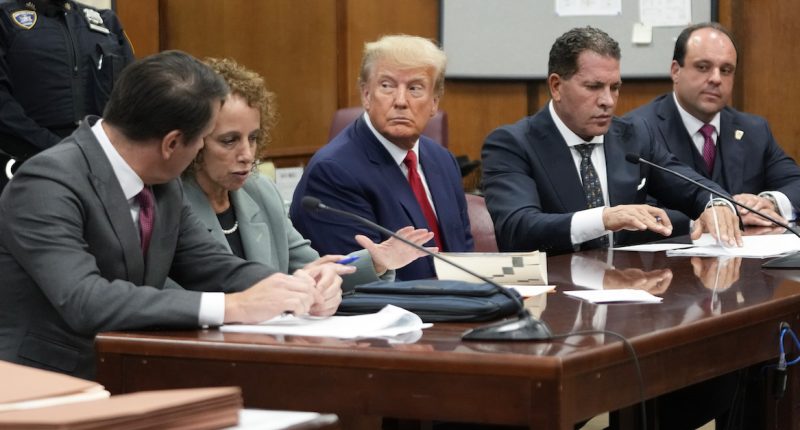 Former President Donald Trump appeared virtually in a Manhattan criminal courthouse on Tuesday afternoon, where a judge assured him that the protective order that he entered won't stop Trump from commenting about the case until his trial set for next year.
"It's certainly not a gag order," Manhattan Supreme Court Justice Juan Merchan affirmed.
Later in the proceedings, Merchan set a trial date for March 25, 2024, suggesting it was firm. The judge called it a "date certain for the commencement of this trial."
Though Trump didn't personally appear in court, he engaged with the proceedings virtually through a video, in which he was seated next to his attorney Todd Blanche. The primary purpose of the hearing, the judge said, was to inform Trump about the protective order that the court had entered.
"He's very concerned that his First Amendment rights are being violated by this protective order," Blanche said.
Playing down those fears, Blanche said that he explained to Trump that he is "free to speak about the case and defend himself."
Merchan agreed with that interpretation, adding that it's "certainly not my intention in any way to impede" Trump from speaking about the case.
Earlier this month, Justice Merchan issued a written order barring Trump from posting "covered materials" from his criminal case on platforms "including, but not limited, to Truth Social, Facebook, Instagram, WhatsApp, Twitter, Snapchat, or YouTube, without prior approval from the court."
Trump remains free to comment generally on his criminal case, as long as he doesn't spill certain categories of protected information shared by prosecutors over the discovery process.
Manhattan District Attorney Alvin Bragg claims that Trump committed 34 felonies by coordinating a $130,000 payoff to pornographic film actress Stormy Daniels — and reimbursing $420,000 to his then-fixer Michael Cohen, rounded up for taxes plus purported "tech" and "legal" fees. Cohen received his reimbursements in increments of $35,000, and prosecutors allege that Trump falsified business records dozens of times through this arrangement.
Under New York State law, falsification of business records becomes a felony when undertaken in the commission of a separate crime. Bragg has remained coy about what that other crime is, but he said that they could include violations of New York Election Law, New York Tax Law, New York Penal Law, or violations of the Federal Election Campaign Act.
Prosecutors have resisted Trump's requests for more specificity, through what is known as a bill of particulars.
"Defendant has already received and will receive far more factual information than the People are required to provide in a bill of particulars, and has more than sufficient information to prepare his defense," Assistant District Attorney Becky Mangold wrote on May 12.
This is a developing story.
Have a tip we should know? [email protected]