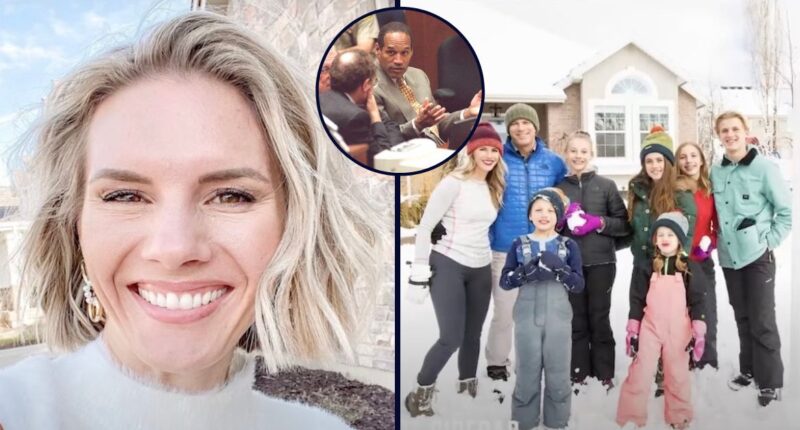 The famed attorney who represented O.J. Simpson during his murder trial says Ruby Franke might have a hard time coming up with a defense against child abuse claims.
Harvard professor Alan Dershowitz told Law&Crime's Sidebar podcast host Angenette Levy that Franke's best option may be to lean on Utah's "free-range parenting" law. The mother of six, who had been publicly criticized for her parenting style and punishment tactics, is currently facing six counts of aggravated child abuse.
"The argument has to be that, how parents deal with their children, particularly under local law, is a matter of degree. There's a tremendous amount of discretion given to parents as to what the best method of raising their children is," Dershowitz told Levy. "We don't want the state to go too deeply into family matters and intrude."
"On the other hand, obviously, there are the rights of children who can't defense themselves and can't articulate some claims they have," Dershowitz continued. "if you have a case where there's clear, obvious, knowing abuse, that defense is less likely to work."
Dershowitz told Levy that standards of acceptable discipline can change over time.
"I just turned 85, so we're talking about almost a century ago, a parent would wash out their child's mouth with soap if they said a dirty word. They would beat them up, smack them. I got smacked by my rabbi in Hebrew school for questioning the Torah. Those today are utterly unacceptable," Dershowitz said. "I'm not suggesting that what is alleged here fits on any continuum. All I'm suggesting is, to the modern eye and ear, things that are clearly abusive would not have seemed abusive back then, which is why you need absolute clarity."
"Also, there are different cultural norms for how you treat children," he said. "Different religious groups, different ethnic groups, different ideological groups treat their children somewhat differently. There is a need for clear guidance and statutes that say, you know, you can't restrain your children or deny them food. On the other hand, you can deny them dessert. Everybody would acknowledge that. And so what the criminal law doesn't like is matters of degree. And yet, when it comes to issues like this, there are always going to be matters of degree and matters of different attitude by different groups of people."
Levy questioned Dershowitz as to whether Franke could claim that Jodi Hildebrandt, her therapist who is also charged with child abuse, advised her how to care for her children. Dershowitz called that a "variation of the 'advice of counsel' defense."
"What she's claiming is advice of therapist defense or advice of religious leaders defense," he told Levy. "It'd be interesting to see how a jury in this part of the country reacts to the claim of advice of counselor, advice of religious leaders, advice of friends. It's very likely the jury will find that, notwithstanding any of those defenses, this went too far. But remember, the state has to prove that beyond a reasonable doubt and all they need is one juror to have a reasonable doubt and you have a hung jury."
"There are two ways of defending a case like this," Dershowitz said. "One is to dispute the facts. And if you dispute the facts and you turn out to be wrong, the jury will not like you because the jury can see the facts with their own eyes."
"The other is to take a different tact and say, 'Look, I did these things. I did it in the best interest of the children," he continued. "Maybe people disagree with me. Maybe I was wrong, but they're my children. I have the right to make a decision to bring them up int he way I thought was best for them.' You know, they're both uphill defense, but a good lawyer has to decide essentially between those defenses now."
Dershowitz also believes there is a possibility that Franke could strike a plea bargain as the case moves forward.
Franke, 41, started the YouTube channel "8 Passengers" in 2015 with her husband. In her videos, she featured the everyday lives of her six children, while giving advice about parenting, homeschooling, and marriage. At its height, the channel amassed more than 2.2 million subscribers.
Uploads to the channel stopped in 2022 and YouTube terminated the account earlier this year. While YouTube did not provide a specific reason for the removal, multiple fellow YouTubers have made videos calling out Ruby Franke for her strict parenting style and punishment tactics.
After she stopped uploading to "8 Passengers," Ruby Franke began appearing in videos for ConneXions Classroom, a therapy company created by Hildebrandt, her business partner.
According to the Santa Clara-Irvine Public Safety Department, police got a call just before 11 a.m. on Wednesday, Aug. 30, about a 12-year-old boy who showed up to a man's home asking for food and water. The man told dispatchers that the child "appeared to be emaciated and malnourished, with open wounds and duct tape around the extremities," police wrote in the release.
Investigators discovered the boy had left neighbor Hildebrandt's home through a window. When police searched the home, they found the boy's younger sister with similar wounds. Both were treated at a hospital. Franke's other minor-aged children were taken into the care of child protective services.
The oldest child in the Ruby family, Shari, is now 20. She reportedly called police to do a welfare check on her younger siblings in September 2022 while she was attending Brigham Young University. She said the children had been left home alone for at least five days.
A neighbor told the Salt Lake Tribune that she also spoke with child welfare officials at least twice in 2022 because she was concerned about the Franke children being at home on their own for long periods of time.
Utah was the first state to change its definition of neglect, to protect what's called "free-range parenting." The parenting style encourages independence and exploration for children in safe environments, without constant supervision. As long as the child is of an appropriate age, they can do things like walk to school by themselves, play outside unsupervised, or stay at home by themselves.
Law&Crime reached out to Utah's Division of Child and Family Services about the Franke case.
"DCFS affirms recent law enforcement reports of our involvement in the Franke case," the agency responded. "However, in order to protect the integrity of the necessary working relationships with those we serve, and to respect the privacy of children and families, DCFS will continue its practice and refrain from sharing specific information on a case, past or present."
The agency also stated that "free-range parenting laws do not absolve parents from supervising their children, but are intended to allow parents to teach their children independence and resilience how they see fit based on the child's age and maturity."
Dershowitz told Levy during his interview that while he understands the "free-range parenting" style, "it doesn't give us the kind of lines that we need to separate bad parenting from criminal parenting."
Franke and Hildebrandt were both expected to be in court on Monday, Sept. 18 for a bail hearing, but the appearances were postponed until at least October. Officials with Utah State Courts said "additional time [is] needed to review copious amounts of discovery."
Have a tip we should know? [email protected]