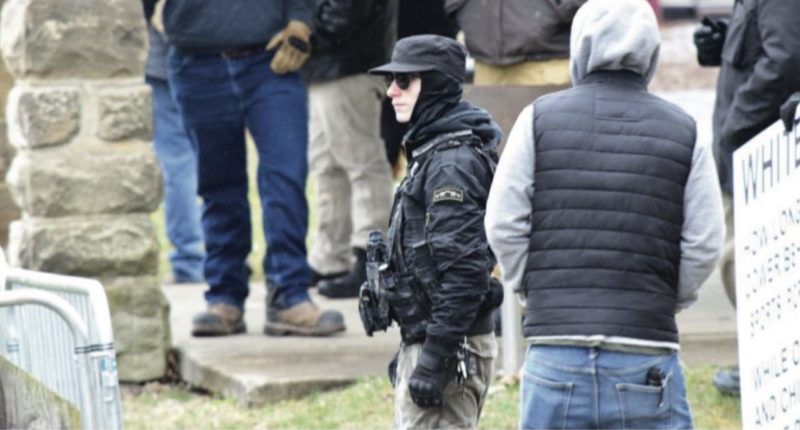 A member of an Ohio neo-Nazi group was arrested on Friday, charged federal court in relation to an attack on a Cleveland area church that planned to hold a drag brunch and drag story hour.
Aimenn D. Penny, 20, is accused of hurling a Molotov cocktail at the Community Church of Chesterland, a United Church of Christ church, on March 25, the US Department of Justice said. Penny, a member of the Nazi group White Lives Matter Ohio, told investigators he firebombed the church to "protect children and stop the drag show event," The Hill reported.
"Penny stated that night he became more and more angry after watching internet videos of news feeds and drag shows in France and decided to attack the church," an arrest affidavit says. "Penny stated that he would have felt better if the Molotov cocktails were more effective and burned the entire church to the ground."
Penny's attack did little damage — the church's outdoor sign and lighting were destroyed and some exterior wall surfaces were scorched — and the church planned to hold the events on Saturday as planned, although local law enforcement had asked them to cancel.
Jess Peacock, the church's minister, told Cleveland Magazine that the church had been inundated with hateful messages and threats since it announced its drag events — two drag brunches Saturday morning, with drag shows, that were age-restricted to adults only and a drag story hour for families and children in the afternoon. The brunches were held at another location, while story hour was scheduled for the church.
Peacock said the church has a "robust" security plan but wouldn't hesitate to cancel if there were serious safety concerns.
"I don't think, up until the last two days, that there wasn't a day that I didn't wake up that I didn't have a personal message on my phone telling me I'm a piece of sh**; that I'm going to hell, I'm an abomination," Peacock said.
Protest, Peacock said, was to be expected. "It's (their) right to protest — as long as people are sticking to protesting, we feel very secure about our security plans that we have in place," the minister said.
The Hill reported that a search of Penny's home found Nazi paraphernalia, including swastika flags, and bomb making materials. According to the affidavit, he had previously told police at an earlier protest in Ohio that he is looking forward to the coming "race war" and believes all other races, besides the "white race," should be eliminated.
Michelle Baeppler, the first assistant US Attorney for the Northern District of Ohio, agreed that disagreements are a natural part of American citizenship, but "violence and destruction are never an acceptable way to express a disagreement with a particular viewpoint."
Penny faces a mandatory minimum of five years in prison and up to 20 years if convicted on a malicious use of explosive materials charge. He faces up to 10 years in prison for possessing a destructive device.
For the latest true crime and justice news, subscribe to the 'Crime Stories with Nancy Grace' podcast.
[Featured image: Aimenn Penny/US Department of Justice]


Post source: Crime Online