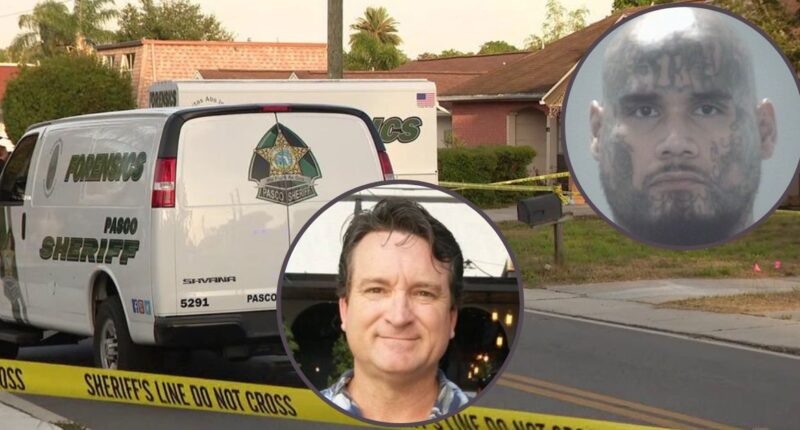 Prosecutors will seek the death penalty against a Florida man described as a violent parolee and street gang member accused of yanking an Uber Eats driver into his home on his last delivery of the night, stabbing him 35 times and dismembering his remains.
Oscar Adrian Solis Jr., 30, is accused of stabbing Uber Eats driver Randall Cooke, 59, on April 19 at a home in Holiday, just outside of Tampa.
In arguing for the death penalty, prosecutors said Solis has a violent criminal history, including stabbing an inmate in an Indiana prison, and called Cooke's slaying "especially heinous, atrocious or cruel."
"I've never seen anything like this before," Pinellas-Pasco County State Attorney Bruce Bartlett said in an interview with the Tampa Bay Times. "I cannot focus on how an individual can be so vile. I cannot for the life of me believe he was so nonchalant in what he did."
A defense attorney for Solis, who pleaded not guilty to charges of first-degree murder and abuse of a dead body, did not immediately return an email from Law&Crime seeking comment.
Investigators said it all went down when Cooke made his last meal drop of the night. A home surveillance camera showed Cooke walk up to the door just before 7 p.m. and get pulled inside the house, authorities said. His wife reported him missing when he didn't answer her texts or return calls.
Bartlett told the Tampa Bay newspaper that Solis stabbed him 35 times.
Officials said home surveillance video captured the suspect carrying trash bags with another individual around the side of the house the next day, officials said. Details about the second person seen in the video were not available.
Cooke's car was found near the home, authorities said. The car had been moved after he was killed, the Tampa newspaper reported, citing arrest affidavits. Inside, deputies found trash bags, blood-soaked rags, paper towels, and a red delivery bag Cooke had been seen carrying in surveillance footage, the paper reported.
Authorities said they found some of Cooke's dismembered remains in trash bags and a cooler on the property. Investigators found the victim's wedding ring and car keys in a room in the house, authorities said.
In a news conference announcing Solis' arrest on April 25, Pasco County Sheriff Chris Nocco said he was a member of a violent gang known as Mara Salvatrucha (MS-13) who had been released from an Indiana prison in January after serving more than four years for assault and burglary.
Nocco said the victim and suspect did not know each other and described the killing as gruesome and demonic.
"This was absolutely a horrific crime of passion," he said. "You always say the word 'evil,' but this is demonic."
Cooke was a stepdad to two daughters and father to three other children. His wife told Patch she would never forget the day he got down on a knee and proposed and their wedding day — Aug. 28, 2020.
Second marriages for both, they had been together as a couple for 11 years, Patch reported.
"My heart and soul is gone," she told Patch. "As you can imagine, the devastation not only myself but my family is facing right now is unfathomable. Randy was a hardworking, loving, kind and caring man who cared deeply about his family and friends. The thought of him not being in our lives is something that I cannot imagine.
"No one understands the love we had. We laughed every day for 11 years. Never fought. We respected each other, comforted each other, supported each other, loved each other."
His stepdaughter Melany Dzoba told Tampa Bay's ABC Action News he was a dedicated husband and a fun-loving dad.
"He was the most perfect man," Dzoba said. "Such a happy guy. I mean, we all go through our ups and downs. We're all still human, but he just — he was always just so happy and just trying to have fun and laugh — all the time."
An Uber spokesperson said in a statement they are heartbroken.
"There is no reason why Mr. Cooke shouldn't be home with his family today, and we are keeping his loved ones in our thoughts," the statement said.
Have a tip we should know? [email protected]