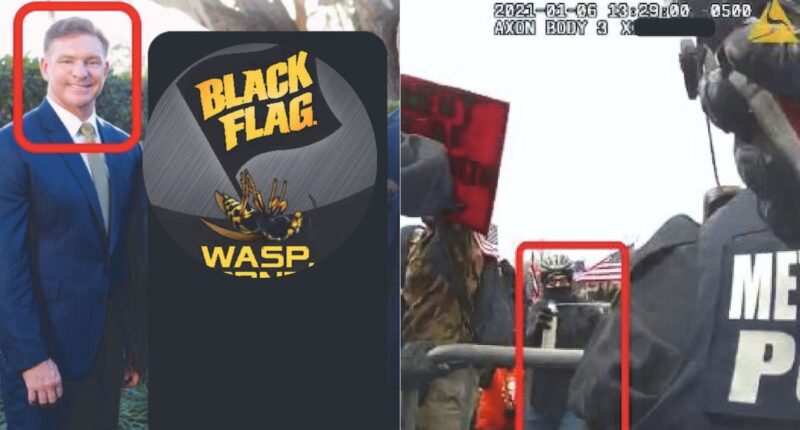 Still not through with their post-Jan. 6 clampdown, federal prosecutors now want a man accused of spraying bee killer on law enforcement to buzz off to prison for a long time.
Small businessman Peter G. Moloney, a 58-year-old from Bayport, New York, faces a veritable colony of felony and misdemeanor charges that could land him behind bars for decades. Moloney also punched and shoved a photographer for The Associated Press, authorities say. The charges against him include civil disorder, assaulting law enforcement, assault by striking and more.
A conviction on the top count alone carries a possible 20-year penalty.
Though notable in his alleged choice of weapon, Moloney is hardly alone among those accused of trying to spray chemicals in the faces of police who defended the U.S. Capitol. Nearly 350 people have been charged to date with assaulting, resisting, or impeding officers or employees. Some used mace, pepper spray and even bear spray on Jan. 6, 2021.
Moloney deployed Black Flag Wasp, Hornet & Yellow Jacket Killer, in an attack on police caught on video, according to the FBI.
Still frames from the footage — and a photograph of the label — are embedded in the affidavit supporting the criminal charges.
"By this time, a certain number of police officers from the Metropolitan Police Department had arrived to aid and assist the USCP officers in protecting the Capitol and the certification proceedings taking place inside," an FBI agent wrote in an affidavit. "The recordings from some of their body worn cameras show Peter G. Moloney's attack on the police officers."
Under the subheading "Assault by Striking," the FBI recounts the alleged assault of an anonymous AP photographer, "J.M." – identified by the wire service as John Minchillo – who is accused by the crowd of being "antifa." Short for anti-fascist activists, antifa was vilified by former President Donald Trump and his supporters before, during and after Jan. 6, 2021.
"The crowd viciously attacks J.M., eventually forcing him over a wall," the affidavit states. "Peter G. Moloney participates in the initial attack on this member of the news media by grabbing onto his camera and pulling, causing him to stumble down the stairs. Peter G. Moloney then continues punching and shoving the member of the news media away from the West Plaza, with other rioters eventually pushing the member of the news media over a wall."
Moloney is recognizable in police body-camera video by his "distinctive" attire: a bicycle helmet, gaiter, eyewear, gloves — and his can of Black Flag Wasp, Hornet & Yellow Jacket Killer, the FBI says.
"At approximately 1:23 p.m., body worn camera video from Metropolitan Police Department Officer O.A. and OSINT video shows Peter G. Moloney attacking another member of the news media, N.Q., by swiping at and grabbing N.Q.'s camera while he is not looking," the affidavit says. "Moloney then pulled on the camera, hard enough to cause N.Q. to stumble down the stairs."
Among other things, Moloney misused the pesticide, ignoring clear warnings to "not apply [Black Flag Wasp, Hornet & Yellow Jacket Killer spray] in a way that will contact adults [… ], either directly or through drift."
"Keep people and pets out of the area during application," the label states, noting that off-label use is a "violation of Federal law."
Moloney, who was arrested on Wednesday morning in Bayport, will appear before a magistrate judge in Central Islip Federal Court at 2 p.m. ET.
Read the FBI's affidavit here.
Have a tip we should know? [email protected]