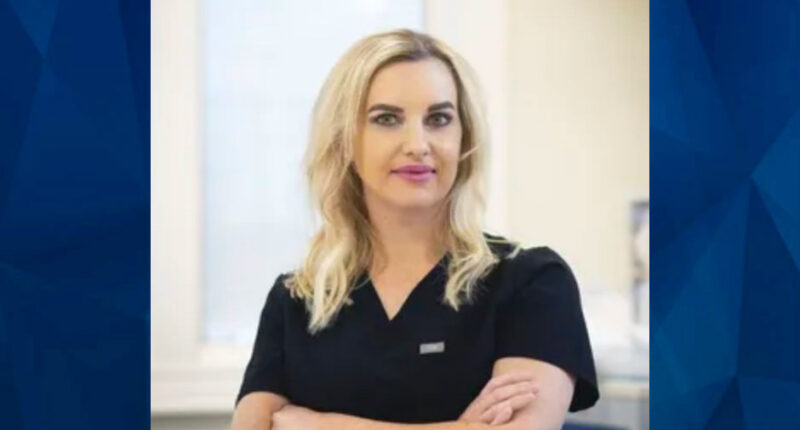 An Ohio plastic surgeon is presenting her case this week to have her license reinstated after the State Medical Board suspended it over issues involving her livestreaming surgeries over TikTok.
Katharine Roxanne Grawe, known to her social media followers as Dr. Roxy, has been barred from practicing since November 18, 2022, when the board determined that "Grawe's continued practice presents a danger of immediate and serious harm to the public."
According to the Columbus Dispatch, at least four women have filed suit against Grawe after facing serious complication from their surgeries.
State Letter – Dr. Katharin… by WSYX/WTTE
The hearing, which began on Monday, is expected to conclude on Friday, but the board is unlikely to make a decision until its July 12 meeting.
In its November 18 letter informing Grawe of the suspension, the board noted that it had twice warned her about privacy concerns over her broadcast of surgeries, in October 2018 and September 2021, but that the issues had not been satisfactorily addressed. In particular, the board appeared concerned that Grawe "engaged in dialogue" with viewers asking questions in the middle of surgeries.
During one liposuction, the board wrote, Grawe was repeatedly looking away from the surgery while answering questions. The patient ended up with a perforated bowel and a severe infection. Another patient ended up hospitalized with rhabdomyolysis, a condition of severe tissue damage that can cause permanent disability or death. A third patient suffered severe infections following a breast implant surgery.
The suspension of Grawe's license prompted creation of a private Facebook group, "Enough is Enough. Have you been a victim of Dr. Roxy?" WSYX reported that women have shared their experiences there, including one woman who told the station she didn't think Grawe should get her license back.
"These people's lives were impacted, and the pain that these people went through," said Kelly Cardenas, who had a breast augmentation surgery in July 2022 that wasn't healed until December. "I don't want her to hurt anyone else ever again."
The station spoke with a woman during the hearing who filed a civil lawsuit against Grawe in 2014 and was awarded more than $350,000 in damage.
WSYX said that Grawe's TikTok page is currently private, with more than 14 million likes and over 843,000 followers. Mary Jenkins, a breast cancer survivor, said Grawe's post-surgery care was negligent and fell well below the standards of medical care."
"Could this finally be coming to an end?" Jenkins said. "When I was going through my experience, I wanted her license. She needed to be held accountable so she wouldn't be able to do what she did to me to others."
For the latest true crime and justice news, subscribe to the 'Crime Stories with Nancy Grace' podcast.
[Featured image: Katharine Roxanne Grawe/Roxy Plastic Surgery]


Post source: Crime Online