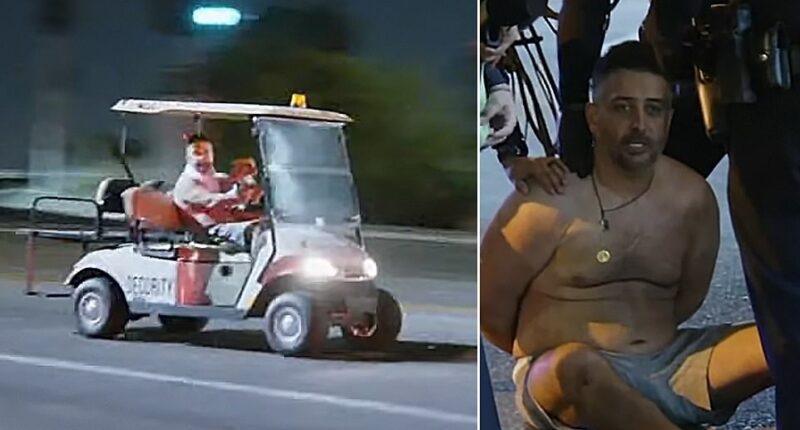 Police chase shirtless man on golf cart with dog on his lap in LA
Advertisement
A Los Angeles man has been taken into custody after leading police on a chase in an allegedly stolen golf cart while carrying a dog on his lap.
The shirtless and shoeless suspect was caught on video fleeing police after reportedly stealing the vehicle at knife point from a store in the Sherman Oaks area of the Californian city.
Bizarre footage shows the man managing to evade at least four police cars during the slow-speed chase on Sunday night. The man, who later claimed to be intoxicated, can be seen cruising along the streets of north Hollywood sporting nothing but a pair of grey shorts and a necklace.
A dog is perched on his lap inside the golf cart which is marked with Allied Universal Security Services branding. At one point, police attempt to lay down a spike strip, but the man manages to swerve out of the way and continue his escape by plodding along at speeds of around 19mph.
The chase eventually came to an end when the suspect hopped out of the golf cart and attempted to flee on foot while carrying the dog, according to Fox News. Footage shows him swarmed by officers who managed to bring him to the ground. The outlet reported that the dog was recovered unharmed from the scene.
Additional footage from KTLA5 shows the man drenched in sweat and being led to waiting police cars. As he walks with his hands behind his back, he shouts out: 'I'm sorry Rocky. Rocky I'm very sorry. I was drinking I was an alcoholic, I didn't feel like I belonged. Don't drink, don't do drugs, be a better person.'
Officers can also be seen comforting the light brown, mixed-breed dog before guiding him towards a police car.
Authorities first received a call just after 9 p.m. about a golf cart being stolen at knife point on Ventura Boulevard, according to abc7.
Want more stories like this from the Daily Mail? Visit our profile page here and hit the follow button above for more of the news you need.
Post source: The List