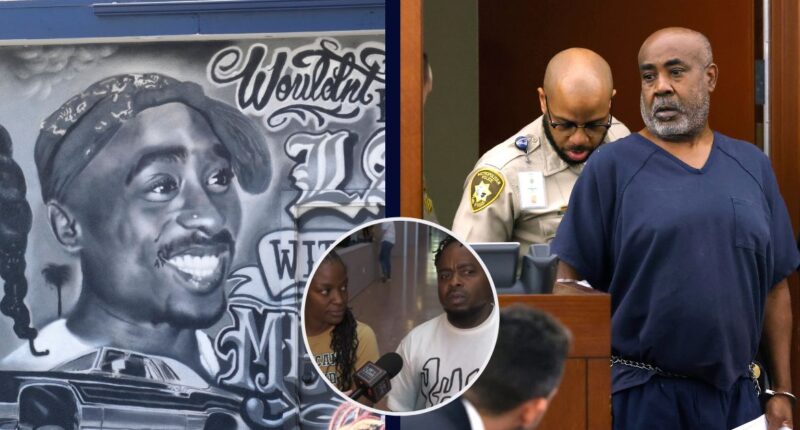 The man police say was the mastermind behind the murder of rapper Tupac Shakur in 1996 appeared in a Las Vegas, Nevada, courtroom on Wednesday for a brief hearing.
Duane "Keefe D" Davis, 60, was scheduled to be arraigned on a murder charge but things were cut short because he doesn't have a lawyer in Nevada. Judge Tierra Jones of the Eighth Judicial District Court rescheduled his arraignment for Oct. 19.
Davis did not enter a plea and will remain behind bars without bond.
A grand jury indictment in Clark County District Court accuses Davis of murder, with sentencing enhancements for the use of a deadly weapon and alleged gang activity.
On Sept. 7, 1996, rapper Tupac Shakur was gunned down at the height of his career while riding in a car near the Las Vegas strip with Death Row Records producer Marion "Suge" Knight.
Authorities accuse Davis of ordering his nephew, Orlando "Baby Lane" Anderson, to shoot Shakur as the white Cadillac they were in pulled up alongside the BMW Knight was driving. Shakur was shot multiple times and died a week later.
In his memoir, "Compton Street Legend," Davis admitted he was in the front passenger seat of the Cadillac and passed a gun to the backseat, where the shots allegedly came from. He implicated his nephew, Anderson, saying he was one of two people the back of the car. Anderson had always denied any involvement in Shakur's death and died in 1998. The others in the Cadillac that night are also dead, leaving Davis as the only surviving passenger.
In 2009, Davis found himself in trouble on drug charges, and agreed to confess to his role in the killing of Shakur. But that confession, known as a proffer, couldn't actually be used to prosecute him.
Former Los Angeles Police homicide detective Greg Kading was there when Davis told police what happened the night of Sept. 7, 1996. He spoke with Angenette Levy for Law&Crime's Sidebar podcast.
"It's not what you know, it's what you can prove. And we couldn't use his self-incriminating confession back in 2009," Kading says. "But because of that, he had this false perception that he had immunity. And so he began to go out and boast publicly about his role in the murder. So, in essence, he talked himself right into jail. And so to see his confession being brought to light, his involvement being brought to light, and then his arrest and prosecution being pending, I'm so glad to see history finally getting set straight. This is not an unsolved murder. It has just been an unprosecuted murder."
Even after Davis started speaking publicly about Shakur's murder, it still took years to bring charges against him. Clark County District Attorney Steve Wolfson says there's a simple reason for that.
"This is an important case. We wanted to make sure we get it right," Wolfson said in a press conference. "We wanted to make sure we had legally admissible evidence. We wanted to make sure that we felt comfortable that we had sufficient legal evidence. If you're going to charge a person with murder, he has a right to believe that the system would only bring charges if there was sufficient legal evidence. So we waited until the point in time when we had that degree of evidence and we could move forward."
Outside Davis's abbreviated hearing, Shakur's cousin, Mario Scott, and his wife Katina, spoke with Law&Crime Network about the night Shakur died. Mario Scott was only 9-years-old at the time.
"The world really went up in an uproar — the neighborhood, the family, really the whole Black community," Scott told Levy outside the courtroom. "It was horrible, it was terrible, and to have, 27 years later, kind of the same impact and emotions come back is kind of strange."
Mario Scott says it was striking to see Davis in court.
"It was super emotional," he told Levy. "I had a couple tears come from my eyes, I had chill bumps, things like that. But we're going to work through it and get past it."
Scott's wife Katina told Levy that Davis speaking about his involvement in the murder so publicly, and not being held accountable, was infuriating.
"It was extremely frustrating because it seems like he had been getting away with it for so long that he was starting to gloat about it," she says. "He was basically getting comfortable, settling into the fact that he did it, he got away with it, and basically, 'Who cares? Nothing is going to happen to me.' So it felt good to see him in cuffs and now having to be accountable for it, because he's been speaking on it himself anyway, ironically."
The Scotts say when they got the news that police had finally made an arrest, they were ecstatic.
"[It was] as unbelievable as taking a life of someone so special," Katina Scott told Levy. "Getting that news was just as surprising, because it's taken 27 years. You never lose hope but still don't expect it."
Mario Scott summed it up by saying, "Every dog got their day. The guy's in court now. So Tupac lives on, for sure."
Have a tip we should know? [email protected]